Standards for medicines management
Standards for medicines management
Standards for safe practice in the management and administration of medicines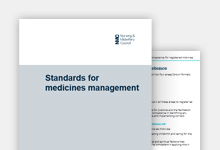 Our Standards for medicines management was published in 2007 and replaces the Guidelines for the administration of medicine.
We're planning to withdraw these standards at the end of January 2019 - we'll confirm the actual date of withdrawal as soon as possible.
Withdrawal of our standards
We recognise that it's important that all healthcare professionals can access accurate information on the safe and effective handling, management and administration of medicines. However, it's not within our remit as a regulator to provide this type of clinical practice guidance, so we won't be replacing these standards.
When we consulted on the withdrawal in 2017, it was clear that there's lots of support for guidance that's relevant for all health and social care professions. We've been working with key stakeholders to help develop this.
For example, we're working closely with the Royal Pharmaceutical Society (RPS) as they review and update their professional guidance on The Safe and Secure Handling of Medicines. This guidance provides information and guidance for all healthcare professionals on medicines management and administration. The Royal College of Nursing (RCN) and the Royal College of Midwives (RCM) have also been closely involved in this work.
Where to find information on medicines management
Alongside the RPS guidance, most local NHS trusts and other employers will also have their own guidance on safe and effective medicines handling, which employees should always check and follow when considering their actions.
However, healthcare practitioners may need to consult other sources of guidance for specific areas of practice. We've listed some of these below.
Other regulatory and professional bodies
Health departments and training and provider organisations in all countries of the UK (e.g. DHSC, NHS England, Health Education England, CQC and equivalent departments and organisations in Scotland, Wales and Northern Ireland).
Find out about revalidation