Standards for medicines management
Standards for medicines management
Medicine management
At its meeting on 28 March 2018, Council approved the withdrawal of our current Standards for medicines management. No date has yet been fixed for when we'll withdraw them, although it's intended that the date for withdrawal will be notified no later than 31 July 2018.
It is not our intention to replace the Standards for Medicines Management with new guidance produced and published by the NMC. It is not within our remit as a statutory regulator to provide clinical practice guidance of this nature.
However, it was apparent from responses to our recent consultation that there is considerable support from nurses, midwives, educators and the public for guidance on this key area of practice to be produced that can easily be applied across the board to all health and social care professionals. We're committed to working in conjunction with key stakeholder partner groups to help develop such guidance.
In particular we're currently working closely with the Royal Pharmaceutical Society as they review and update their guidance entitled Professional Guidance on Safe and Secure Handling of Medicines in all Care Settings. We believe could provide an ideal model for future guidance on medicines management and administration.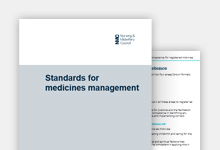 Medicines management and prescribing in the UK are governed by a complex framework of legislation, policy and standards. Our Standards for medicines management make it clear that it is necessary for nurses and midwives to refer to local and national policies.
We work with agencies to make sure that public protection in medicines management and prescribing is maintained, and that nurses and midwives are directed to other sources of help where appropriate.
This standard was published in 2007 and replaces the Guidelines for the administration of medicine.
Circulars
NMC Circular 05/2009
First published: September 2009
Supply and/or administration of medicine by student nurses and student midwives in relation to Patient Group Directions (PGDs).
Links
Standards for medicines management
The Human Medicines Regulations 2012
The Resuscitation Council (UK)
The Medicines Healthcare products Regulatory Agency (MHRA) website
Find out about revalidation