Standards for prescribing programmes
Standards for prescribing programmes
Part 3 of Realising professionalism: Standards for education and training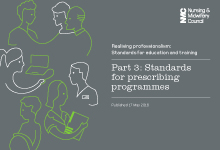 Our Standards for prescribing programmes (Cymraeg) came into effect 28 January 2019. Helpful FAQs can be found at the bottom of this page but if you can't find what you're looking for, feel free to email us.
This document is available in a print friendly version (Cymraeg).
Using the standards
Educational institutions must comply with these standards in order to run any NMC-approved programme.
Student prescribers in the UK must successfully complete an NMC-approved, post-registration prescribing programme in order for an annotation to be made on the NMC register.
It's important to read these standards along with the Standards framework for nursing and midwifery education, Standards for student supervision and assessment and the Royal Pharmaceutical Society's (RPS) A Competency Framework for Prescribers.
Reading them together provides a complete picture of:
what nurses and midwives need to know and be able to do, by the time they register their prescribing qualification with us, and
our expectations of approved education institutions and their practice placement partners for delivering NMC-approved programmes for nurses, midwives and nursing associates.
Supervision and assessment for nurse and midwife prescribing students
Under these new standards, prescribing students can be supervised and assessed by any registered healthcare professional (including a nurse or midwife) who is an experienced prescriber with suitable equivalent qualifications for the programme the student is undertaking.
This role was previously only held by a medical doctor registered with the General Medical Council (known as Designated Medical Practitioners).
The change will apply to all NMC approved prescribing programmes from September 2020.
Guidance for supervisors and assessors
We've worked with the Royal Pharmaceutical Society (RPS) and other professional healthcare regulators to develop new guidance for those taking on this supervisory and assessing role.
This key role ensures that student prescribers have demonstrated their ability to practise safely and effectively before their qualification is awarded and they can begin prescribing in their own right.
In this guidance, the RPS refers to those fulfilling this new role collectively as Designated Prescribing Practitioners (DPPs).
View the Competency Framework for Designated Prescribing Practitioners on the RPS website.
Becoming a prescriber
Read our page on becoming a prescriber to find out more about the entry requirements of prescribing programmes under our new standards.
Answering your questions