Standards for prescribing programmes
Standards for prescribing programmes
Part 3 of Realising professionalism: Standards for education and training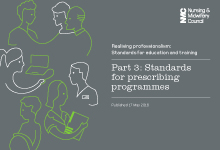 Our Standards for prescribing programmes (Cymraeg) came into effect 28 January 2019. Helpful FAQs can be found at the bottom of this page but if you can't find what you're looking for, feel free to email us.
This document is available in a print friendly version(Cymraeg).
These standards set out what's required for our approval and consist of the following:
legal requirements
entry requirements
availability of recognition of prior learning
methods of assessment
information on the level of award
Why these standards matter
Educational institutions must comply with these standards in order to run any NMC-approved programme.
Student nurse and midwife prescribers in the UK must successfully complete an NMC-approved, post-registration prescribing programme in order for an annotation to be made on the NMC register.
As part of our commitment to inter-professional learning, from January 2019, all NMC-approved prescribing programmes must deliver outcomes which meet the Royal Pharmaceutical Society's (RPS) Competency Framework for all Prescribers.
Using the standards
It's important to read these standards along with the Standards framework for nursing and midwifery education, Standards for student supervision and assessment and the Royal Pharmaceutical Society's (RPS) A Competency Framework for Prescribers.
Reading them together provides a complete picture of:
what nurses, midwives and nursing associates need to know and be able to do, by the time they register their prescribing qualification with us, and
Our expectations of approved education institutions and their practice placement partners for delivering NMC-approved programmes for nurses, midwives and nursing associates.
The student journey
Selection, admission and progression
Standards about an applicant's suitability and continued participation in a prescribing nursing programme
Curriculum
Standards for the content, delivery and evaluation of prescribing programmes
Practice learning
Standards specific to learning for student prescribers that takes place in practice settings
Supervision and assessment
Standards for safe and effective supervision and assessment for prescribing programmes
Qualification to be awarded
Standards which state the award and information for annotation onto the NMC register
Answering your questions
Read our page on becoming a prescriber to find out more about the entry requirements of prescribing programmes under our new standards.