Standards for prescribing programmes
Part 3 of Realising professionalism: Standards for education and training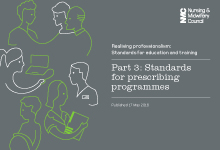 Our standards for prescribing programmes came into effect 28 January 2019.
These standards set out the requirements, for NMC-approved prescribing programmes.
Read our information on becoming a prescriber to find out more about the entry requirements of prescribing programmes under our new standards.
If you can't find what you're looking for, feel free to email us.
Why are our standards important?
Our standards for prescribing programmes are important because educational institutions have to comply with these standards to run any NMC-approved programme.
It's important for students to complete and NMC-approved prost-registration prescribing programme for us to make an annotation on our register. Education institutions must comply with them to be approved to run an NMC-approved programme.
Our standards framework
Our standards for pre-registration nursing associates programmes follow the student journey and are grouped under the following five headings:
Selection, admission and progression
Standards about an applicant's suitability and continued participation in a pre-registration nursing associate programme
Curriculum
Standards for the content, delivery and evaluation of the pre-registration nursing associate education programme
Practice learning
Standards specific to pre-registration learning for nursing associates that takes place in practice settings
Supervision and assessment
Standards for safe and effective supervision and assessment of students on pre-registration nursing associate education programmes
Qualification to be awarded
Standards which state the award and information for registering the student's award with us
Using our standards
It's important to read these standards along with our other Standards for education and training.
Reading these documents together will provide you a complete picture of:
what nurses and midwives need to know and be able to do, by the time they register their prescribing qualification with us.
our expectations of what approved education institutions and their practice learning partners must do for delivering NMC-approved programmes for nurses, midwives and nursing associates.
Supervision and assessment for nurse and midwife prescribing students
Under these new standards, prescribing students can be supervised and assessed by any registered healthcare professional (including a nurse or midwife) who is an experienced prescriber with suitable equivalent qualifications for the programme the student is undertaking.
This role was previously only held by a medical doctor registered with the General Medical Council (known as Designated Medical Practitioners).
The change will apply to all NMC approved prescribing programmes from September 2020.
How these standards were developed
Over the past few years, we've been developing these standards with imput from stakeholders across the UK.
We put our proposals to consultation in summer 2017. We listened closely to the feedback we recieved and made positive changes to the standards as a result.
Find out more about how the standards were developed.