Standards framework for nursing and midwifery education
Standards framework for nursing and midwifery education
Part 1 of Realising professionalism: Standards for education and training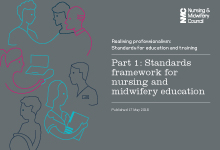 Please note our new standards may be used
from 28 January 2019. Helpful FAQs can be found at the bottom of this page but if you can't find what you're looking for, feel free to email us.
These standards (Cymraeg) apply to all education institutions and their practice learning partners approved to run NMC-approved programmes.
The standards aim to provide flexibility for AEIs and practice learning partners, to develop innovative approaches to all education for nurses and midwives, while being accountable for the local delivery and management of approved programmes.
Our standards framework
Learning culture
We'll only approve programmes where the learning culture is ethical, open and honest, and is conducive to safe and effective learning that respects the principles of equality and diversity. Innovation, inter-professional learning and team working should be embedded in the learning culture.
Educational governance and quality
We expect education providers to comply with all legal and regulatory requirements.
Student empowerment
We want students to be empowered and provided with the learning opportunities they need to achieve the desired proficiencies and programme outcomes.
Educators and assessors
We'll seek assurance that those who support, supervise and assess students are suitably qualified, prepared and skilled, and receive the necessary support for their role.
Curricula and assessment
We set standards for curricula and assessment that enable students to achieve the outcomes required to practise safely and effectively in their chosen area.
This document is available in a print friendly version (Cymraeg).
Using the standards
It's important to read these standards along with the other parts of Realising professionalism: Standards for education and training:
Part 3: programme standards for the course being delivered and the relevant standards of proficiency.
So for nurses that would be Standards for pre-registration nursing programmes and
Future nurse: Standards of proficiency for registered nurses
Reading them together provides a complete picture of:
what nurses and midwives need to know and be able to do, by the time they register with us
our expectations of universities and their practice learning partners for delivering NMC-approved programmes for nurses and midwives.
How these standards were developed
For the past two years we have been developing these standards with input from stakeholders across the UK. We put our proposals to consultation in summer 2017 and listened closely to the feedback we received. Find out more about how the standards were developed.