The best midwifery care happens in partnership
Every woman, baby and family should experience the best possible care during pregnancy, birth and postnatally. And as a registered midwife, you make this a reality. 
Listening to and working in partnership with the women in your care is key to the person-centred midwifery care that every person has the right to expect.
Case studies
The stories of Sabina, Simone, Sophie, Josie and Sophie show us how strong partnerships with their midwives made a huge difference. You may want to reflect on these experiences, and how they might influence your own practice.
CARE reflective aid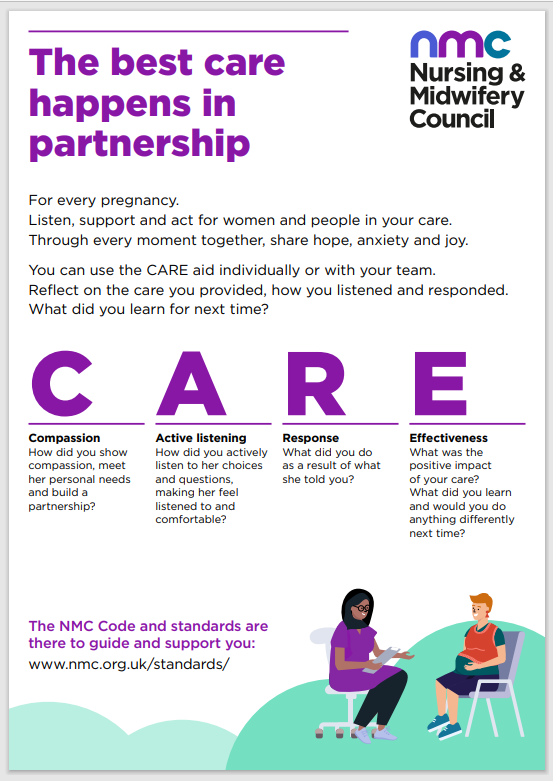 Our Code and standards of proficiency are here to help you reflect on the importance of listening and working in partnership.
To support your individual and group reflection, try our midwifery CARE reflective aid.
It highlights how Compassion, Active listening, Response and Effectiveness are at the heart of care. The prompts can support all midwives to reflect on how to apply the standards in their day-to-day practice.
The CARE reflective aid can be downloaded and printed for easy reference. You can also use this aid during your revalidation.
Webinar
In this webinar, you'll hear from two women who have recently given birth about how strong partnerships with their midwives made a huge difference to how they felt about the care they experienced. And our senior midwifery advisers, Verena Wallace and Jacqui Williams, explore what our standards say about the importance of good listening and partnership.
For the women in your care: what they can expect
We've also developed a campaign intended for women in antenatal care, to empower them in their part of the partnership with you: For Every Pregnancy.
Sharing these materials could help you set the tone and make the women in your care feel at ease. Why not put up the poster in your waiting room?