Blog: Andrea reflects on her first year at the NMC
Blog: Andrea reflects on her first year at the NMC
A year on from her first day at the NMC, our Chief Executive, Andrea Sutcliffe, reflects on what she's learnt over the last 12 months
A year ago today was my first day as the Chief Executive and Registrar of the NMC. I described the role at the time as "a privilege" and it certainly has been.
The honeymoon period is well and truly over but I'm still loving being here and helping to make a difference.
On my first day I tried to answer the question I thought colleagues might have – what would I be like as their chief executive? I told them I'd be active, natural, determined, responsive, enthusiastic and ambitious. What does the year-end report look like?
Active
I shudder to think what my carbon footprint has been in the last 12 months as I've crisscrossed the four UK countries meeting nurses, midwives and nursing associates in different settings.
Starting off in Glasgow (including my first ever trip on the Caledonian Sleeper train), highlights included celebrating my birthday in Highwell House Nursing Home in Herefordshire and meeting the acute liaison learning disability team in Liverpool, a former nurse living in a nursing home in Wales and the homeless nursing team in Belfast.
Each of those visits taught me a lot and reinforced my view that working as a nurse, midwife or nursing associate is one of the most rewarding things you can do, with so many different opportunities and the chance to make a real difference in people's lives.
Despite all that travelling there's still many areas of the UK and different settings I've not yet reached so I'm going to keep being active.
Natural
I explained I wouldn't be standing on ceremony but would be my authentic self. From football conversations with Colin in the post room (his team beat mine in the League One Play-off final) to sharing my favourite films throughout the year (Little Women and 1917 most recently), I've tried to be natural and hopefully despite the job title, approachable.
I also try to use my own life experience to shape how I work and that meant sharing my experience of being bereaved by suicide when discussing person-centred regulation and reflecting on my own experience of miscarriage when we marked Baby Loss Awareness Week.
Being natural is important – if we can't be comfortable bringing our whole selves to work, we're never going to perform as well as we could. For me that means being inclusive and embracing the diversity of my colleagues – a critical role for a leader. I've had a ball celebrating LGBT and Black History months; walking with the team on London Pride; and learning about the different religious events colleagues celebrate.
I hope that my visible support for diversity and inclusion is encouraging for colleagues but I also know we have much more to do. One way we will be taking this forward is by adopting and reporting on the Workforce Race Equality Standards that apply to the NHS in England.
Determined
I knew when I started there was a big agenda and vowed I would work hard to achieve our objectives. A lot has been done this year but I certainly cannot take all the credit for it! Among other things we've welcomed nursing associates to the register; agreed the Future Midwife standards; improved our international registration process; strengthened our support for the public involved in our fitness to practise procedures; and established an emotional support line for registrants.
But that's not the end of it by any stretch of the imagination! My determination and that of everyone at the NMC to continue to improve will be very much in evidence in 2020 too.
Responsive
I promised to listen and respond to what people were telling me, inside the organisation and beyond. I'm glad I did – I've learnt so much from the frustrations with some of our systems and procedures that colleagues face to the pressures that dedicated professionals are coping with as they seek to provide the safest, best care possible.
I've also met members of the public who have shared their experience of the NMC with me – those have sometimes been difficult meetings but I'm incredibly grateful to everyone I have met.
It's been really helpful to have this insight which has informed the development of our new 2020-2025 strategy which we will be launching in April.
Enthusiastic
I said I was excited to be at the NMC but I didn't realise quite how energising the year would be. We've had lots to celebrate including nursing associates joining the register, the renaming of our Chair's office as the Mary Seacole Room and one hundred years of nursing registration with our Always Caring, Always Nursing campaign. I've also been so lucky to represent the NMC at the various nursing and midwifery award ceremonies and share in the delight of those recognised for their dedication, innovation and commitment.
The new year brings lots more opportunities for my natural enthusiasm to bubble up as we celebrate the International Year of the Nurse and Midwife. I'm looking forward to joining with nurses, midwives and the public they serve as we recognise the enormous difference they make in people's lives.
Ambitious
My ambitions remain the same – for the NMC to be a fantastic place to work; for nurses, midwives and nursing associates to be supported by us to provide great care; and for the millions of UK citizens who use health and care services every day and deserve to have the safest, best care.
While we've tackled some difficult issues and made significant progress in 2019, the consultation on our proposed strategic themes showed that the public, professionals and our partners are ambitious for us to do more. We're now turning everything we've learnt into the strategy for the next five years and I'm looking forward to sharing that with you in April.
Year-end report
So, my self-assessment would be – good start but don't stop being active, natural, determined, responsive, enthusiastic and ambitious. Thanks to everyone who has helped – there's a lot more to come!!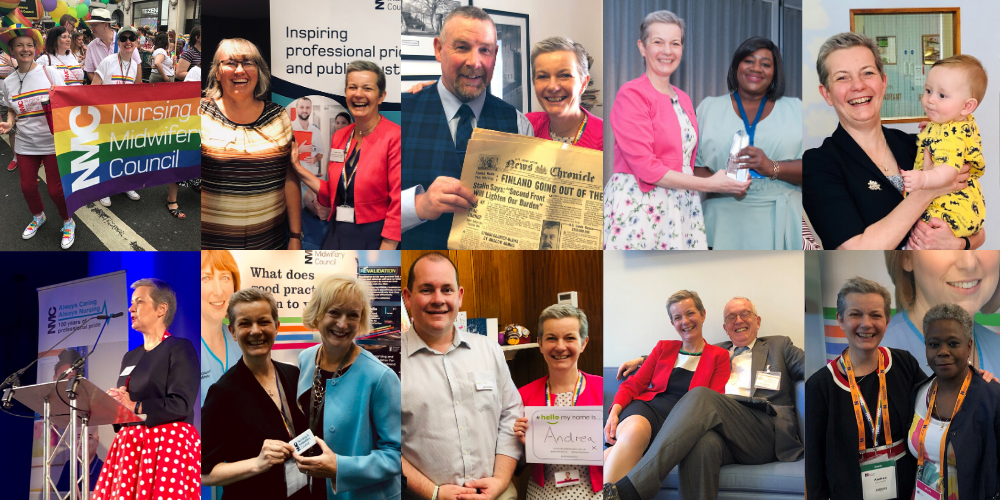 ---
Other recent news…
Rodger Kline, a Research Fellow at Middlesex University and part of the NMC External Advisory Group, speaks about our latest research report.
---
This week every year marks Baby Loss Awareness Week. This time last year, our chief executive and registrar, shared her very personal story. A year on, she refl
---
Andrea Sutcliffe speaks about the importance mental health and wellbeing, especially during the Covid-19 pandemic.
I want to...
News categories