Blog: Celebrating nurses in nursing homes
Blog: Celebrating nurses in nursing homes
In her latest blog, our Chief Executive, Andrea Sutcliffe, recounts her recent visit to Herefordshire
Lots of people take time out on their birthday to enjoy themselves or just to relax. That was my original intention last week but as my husband had to work, I decided on a different kind of birthday treat – visiting services as part of my #ListeningMode tour to meet nurses, midwives and nursing associates across the UK. I could not have chosen a better way to celebrate my birthday.
Joining the dots
I was in Herefordshire kindly hosted and chauffeured by my good friend Richard Humphries. In the afternoon I was at the Wye Valley Trust with Chief Nurse Lucy Flanagan meeting groups of nurses and talking about their challenges and local developments including nursing associates, advanced clinical practice, apprenticeships and the NMC's approach to Fitness to Practise.
We had some lively discussions and they certainly put me through my paces. What was heartening though was how the issues they are tackling locally resonated with the national debates at the Workforce Implementation Steering Group, Ruth May's CNO summit and the launch of the Closing the Gap report I attended. Hopefully we will all be able to join the local and national dots to make a difference for nurses and midwives so they can be supported to provide better, safer care.
Outstanding nursing home care
But the main reason for my visit was to meet up with Karen Rogers and see for myself what she and her team are achieving in Herefordshire Care Homes. Karen runs this small group of four residential and two nursing homes, five of which are rated as Outstanding by my former colleagues at the Care Quality Commission.
We spent the morning at the Outstanding nursing home Highwell House managed by registered nurse Trudi Barnett. Trudi's passion for nursing, commitment to person-centred care and support for her staff was inspiring. As she talked through some of the care plans for people who lived there, I was struck by the range and complexity of their needs, the meticulous attention to detail and the team's relentless focus on ensuring that people can live the life they want even in the most difficult circumstances.
Great leadership
Such outstanding care does not happen by accident. It starts with great leadership and a clear vision. Karen sets the tone focusing on quality of life, dignity and compassion in the care of older people. For example, she is a strong advocate for avoiding un-necessary admissions to hospital for people living in her homes. Whenever somebody does go to hospital, Karen reviews what happened and what can be learnt. No wonder her team work so hard to meet the clinical needs of the people they support however complex they may be.
As the home manager, Trudi makes sure Karen's vision is lived to the full in Highwell House. Key to her approach is the way she supports and develops her nursing and care assistant colleagues. There is a strong emphasis on keeping people up-to-date with good practice, providing training and empowering staff to provide the best, safest care possible. Registered nurses Jinu and Nisha, originally from Kerala, spoke eloquently about the importance of end of life care and ensuring they treat the person, not just the disease.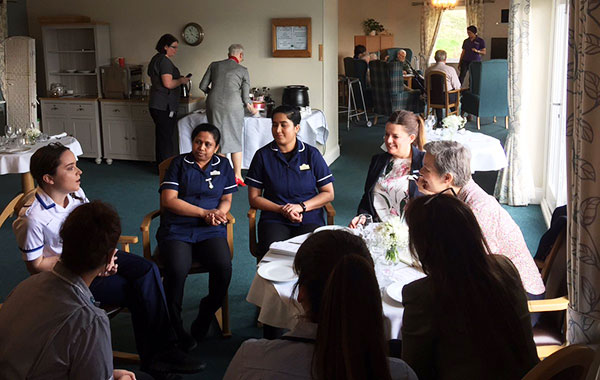 Focus on training
Trudi is enthusiastic about providing clinical placements for student nurses, making sure they do not feel like they have "drawn the short straw". This echoes the sentiments in a recent blog from Derek Baron, Director of Care at Erskine Care Homes, who asked whether a care home placement was a disappointment or an opportunity. At Highwell, I met student nurse Ellie who certainly did not see her placement there as a disappointment. I asked Ellie what she had learnt and she replied that "it's all about seeing the individual and valuing people's lives."
I also met two care assistant team leaders Gemma and Sarah who described the difference they make to people's lives and how much they love the residents they support. They are both very keen to do their nursing associate training and I think they would be a credit on any course!
Living well
I was also able to see for myself that what Karen, Trudi and the team were telling me translated into great care and support for the people living at Highwell. I enjoyed some lovely conversations and even discovered that I shared my birthday with one of the residents who helped blow out the candles on our birthday cake.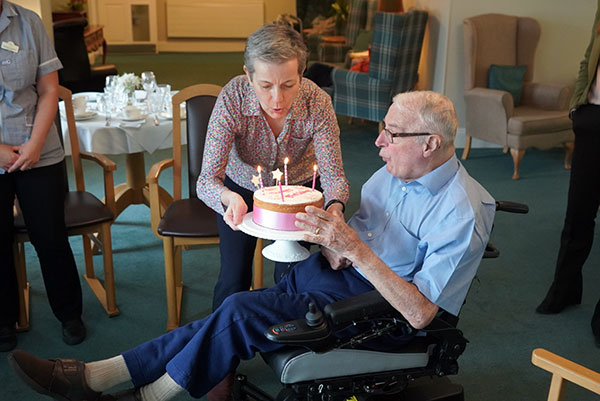 Photo credit: Hereford Times
Flying the flag
As we were finishing our discussions, Trudi asked me to "fly the flag for nurses in nursing homes". Challenging the unacceptable stigma there sometimes is about nurses in social care she also said "Nursing homes are full of really talented, skilled, empathetic people who need to be allowed to do more!"
I could not agree more and I am very happy to fly the flag for nurses in nursing homes – and not just because they baked me a very tasty birthday cake!
---
Watch a video of Andrea starting her day in Herefordshire:
We are here in Herefordshire with @Crouchendtiger7 to visit @HerefordshireCH care home and @WyeValleyNHS. She can't wait to get started! #listeningmode
(Oh and it's her birthday! 🥳🥳🥳 Happy birthday Andrea!) pic.twitter.com/3g9IVh5o4l

— The NMC (@nmcnews) 22 March 2019
---
Other recent news…
Read the latest blog from our Chief Executive Andrea Sutcliffe
---
In her latest blog, Andrea shares a personal story highlighting the importance of nurses across the country and celebrates their incredible dedication, especial
---
A message from Andrea on the national minutes silence.
I want to...
News categories