Blog: Person-centred regulation
Blog: Person-centred regulation
In her latest blog, our Chief Executive, Andrea Sutcliffe, shares a very personal experience of suicide and reflects on how this has shaped her work at the NMC
Person-centred regulation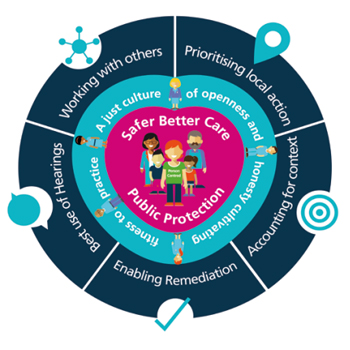 Last week we published our annual Fitness to Practise report for 2018 – 2019. The report explains what we do and how; the facts and figures of our activity during the year; and the progress we have made to address the issues highlighted by the Professional Standards Authority Lessons Learned Review and to implement our new approach to fitness to practise.
I am not going to go over the detail of the report in this blog but hope you will take a look for yourselves. I do repeat mine and our chair's thanks to our colleagues in the Fitness to Practise team and across the organisation for their commitment and hard work.
Suicide
What I do want to do is to focus on one aspect of information we shared for the first time in this report – that "since April 2018, we have recorded four instances in which a registrant has taken their own life while our proceedings are going on." This does not mean that being involved in our fitness to practise process caused people to die by suicide but it does mean we recognise the impact that being under our scrutiny can have on someone. We plan to introduce in the autumn an independent emotional support line for professionals involved in fitness to practise cases. We are also exploring whether we can work with an independent organisation to provide pro bono legal advice to those who wouldn't otherwise be legally represented.
Impact on the public
The impact of being involved in our fitness to practise proceedings is obviously felt by members of the public affected by poor care too. People who have raised concerns and those who are asked to be witnesses will often experience distress when they have to relive the hardest times of their lives or have their evidence questioned by the representatives of the registrant concerned. In 2018 we established the Public Support Service to ensure that people involved in our cases are protected, valued, cared for and respected. In partnership with the General Medical Council we have also put in place an independent emotional support helpline which provides 24 hour assistance and support to people who have been affected by poor care.
Future NMC
These are important steps forward for the public and registrants but I know there is more we can do. Last week also saw the launch of our consultation on our strategic themes to shape the future of the NMC from 2020. Two of those themes focus on building our relationship with the public and strengthening our relationship with nurses, midwives and nursing associates. These themes are there because we know we still need to improve.
Adrian
This is something that matters to me a great deal. As someone bereaved by suicide I am acutely aware of the anguish caused for people involved in our work – as a witness or being under scrutiny. If someone is already vulnerable to mental ill health or the experience triggers that then the consequences can be devastating.
13 years ago today on 1 August 2006 the police broke into my brother Adrian's front door and discovered he was dead from suicide. He was 35.
With my family's permission I have shared and spoken about Adrian's story before (Remembering Adrian, Happy Birthday and Bereaved by Suicide - Can You Help?). Adrian had a diagnosis of severe clinical depression spending time in and out of hospital for many years. I'd seen him a couple of weeks before and thought he was doing better – he had a job as a care assistant, a girlfriend and was making plans for the future. But, unknown to me and the rest of the family, the day he was found he was due in court for non-payment of his rent to his housing association.
Many factors played their part in Adrian's death but I'm sure that the added pressure of a court appearance will have been one of them. He'd told me his job had led to difficulties with his benefits but had not shared the full extent of the problem. The guilt I feel that I didn't realise, didn't do enough and wasn't there for him at that critical time will never leave me.
This matters to me
So when I pledge my commitment to ensuring the NMC understands the impact of what we do on all the people affected by our work, it is not idle rhetoric. I mean it. I know we have not got everything right yet. Our procedures are necessarily rigorous and that can take time and feel very bureaucratic. We can all make mistakes but when a professional regulator does, that is so keenly felt by the person affected. Detail matters. So much distressed me about the circumstances of Adrian's death, but it was the second-class stamp on the three months late complaint response letter that nearly broke me. I am sure that without intending to we have had a similar effect on members of the public and registrants.
Our commitment
I know I work with a team that wants to do the right thing and wants to treat people with kindness, dignity and respect. I know that is not always evident to others. But it is my responsibility, shared with my colleagues, to truly make a difference and support nurses, midwives and nursing associates to provide the safest, best care possible and ensure the public are confident that they do.
Adrian will always sit on my shoulder to make sure I deliver on that promise.
---
Other recent news…
Rodger Kline, a Research Fellow at Middlesex University and part of the NMC External Advisory Group, speaks about our latest research report.
---
This week every year marks Baby Loss Awareness Week. This time last year, our chief executive and registrar, shared her very personal story. A year on, she refl
---
Andrea Sutcliffe speaks about the importance mental health and wellbeing, especially during the Covid-19 pandemic.
I want to...
News categories