Standards of proficiency for nursing associates
Standards of proficiency for nursing associates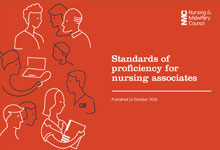 The standards of proficiency for nursing associates set out what nursing associates know and can do when they join our register. They are the minimum standards required to join the new nursing associate part of our register.
Approved education institutions, with their practice placement partners, will need to ensure that nursing associate education and training programmes enable students to demonstrate these proficiencies and qualify as nursing associates.
Download print-friendly version.