Standards of proficiency for registered nurses
Standards of proficiency for registered nurses
Our new standards of proficiency represent the skills, knowledge and attributes all nurses must demonstrate.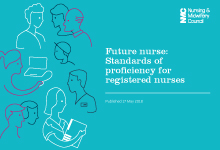 Our new standards of proficiency (Cymraeg) have been updated and have been in use since January 2019.
They have been updated to take into account the changes taking place in society and health care, and the implications these changes have for registered nurses.
This document is available as an easy readand a print friendlyversion (Cymraeg).
There are now seven platforms within the new standards of proficiency for registered nurses which are important to understand because they:
represent the knowledge, skills and attributes that all registered nurses must demonstrate when caring for people of all ages and across all care settings.
reflect what the public can expect nurses to know and be able to do in order to deliver safe, compassionate and effective nursing care.
provide a benchmark for nurses from the European Economic Area, EU and overseas wishing to join the register.
provide a benchmark for those who plan to return to practice after a period of absence.
What are the seven platforms?
Being an accountable professional
Promoting health and preventing ill health
Assessing needs and planning care
Providing and evaluating care
Leading and managing nursing care and working in teams
Improving safety and quality of care
Coordinating care
Your future nurse
We have also created a leaflet (Cymraeg) that explains more about the importance of these standards for those who are not from a healthcare or education background.
Using the standards
It is important to read both sets of standards, Future nurse: Standards of Proficiency for registered nurses and Realising professionalism: Standards for education and training together.
The latter consists of:
Part 1: Standards framework for nursing and midwifery education;
Part 2: Standards for student supervision and assessment; and
Part 3: Standards for pre-registration nursing programmes
Reading both sets together provides a complete picture of:
what nurses need to know and be able to do, by the time they register with us
what approved education institutions (AEIs) and their practice placement partners must provide when delivering education and training courses.
How these standards were developed
For the past few years we have been developing these standards with input from stakeholders across the UK. We put our proposals to consultation in summer 2017 and listened closely to the feedback we received. Find out more about how the standards were developed.
The impact of these new standards on current registered nurses
The Future Nurse: Standards of proficiency for registered nurses set the standards of proficiency necessary for safe and effective practice at the point of registration.
Paragraph 6.2 of the Code requires you as a registered nurse to maintain the skills and knowledge necessary for safe and effective practice. As such, you need to continue to develop your knowledge and skills after initial registration to enable you to work safely and effectively within your chosen nursing scope of practice. This means that you will continue to deepen your knowledge, skills and experience in any relevant areas outlined in these new standards of proficiency.
For revalidation nurses must demonstrate they're are reflecting and maintaining Continuing Professional Development (CPD) in relation to their scope of practice. Where specialisation requires particular knowledge or skills, the standard required in practice should reflect that requirement. Nurses planning for revalidation should ensure that they remain up to date with the knowledge and skills that enable them to practise safely and effectively and consider their own development requirements in line with the new proficiencies and their own scope of practice.
Employers supporting nurses to meet CPD requirements for revalidation should consider the new proficiencies when discussing with nurses how they can develop their skills and knowledge.
> Intravenous administration – most registrants will have achieved this skill as it's often taught and practiced to proficiency level immediately on qualifying, and will now be taught as part of pre-qualifying nursing
> Chest auscultation – currently not part of the curriculum. However, if a registered nurse was working within a medical ward or in the community where a number of patients in their care had respiratory problems, it would be beneficial for them to enhance their scope of practice to include chest auscultation. This could be done through formal study by undertaking a course that includes chest auscultation. It could also be achieved through shadowing a doctor or physiotherapist with such expertise, learning the skill from them, then reading and practicing the skill under their supervision until deemed proficient. This can be documented as part of the revalidation process.
> To enable early access to prescribing programmes after registration, more knowledge on prescribing practice, pharmokinetics, pharmacology and whole systems assessment is now included within the standards of proficiency
The proficiencies specify the knowledge and skills that registered nurses must demonstrate when caring for people of all ages and across all care settings.
There's no expectation that the proficiencies must be demonstrated in every health and care setting.
Students would normally demonstrate the ability to carry out nursing procedures within their own field of nursing practice. Where opportunities are limited in a particular field of practice, they may be demonstrated in any appropriate context or setting.