Standards for competence for registered midwives
Competence for registered midwives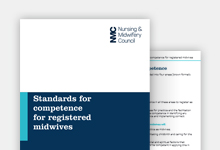 To make the competency requirements of the Standards for pre-registration midwifery education more accessible to midwives and the public, we extracted information to create a separate document, the Standards for competence for registered midwives.
It sets out the standards that midwives must meet when they qualify and the standards they must maintain consistently throughout their careers. To stay on the register, midwives must keep their knowledge and skills up to date.
Links
Standards for pre-registration midwifery education
Circulars
NMC Circular 07/2011
We've withdrawn our circular about changes to midwives' exemptions (07/2011). While it's not our role to publish these, we know it's important for midwives and student midwives to be able to access this information. In light of this, we've edited our Practising as a midwife in the UK publication to include an overview of midwives' exemptions and links to where you can find the most up-to-date information. Please see pages 5 and 13 for the relevant information.