NMC appoints Francesca Okosi to new post as Director of People and Organisational Effectiveness
NMC appoints Francesca Okosi to new post as Director of People and Organisational Effectiveness
Find out more about Francesca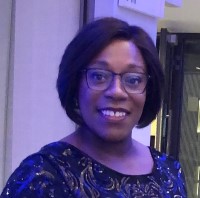 Francesca Okosi has been appointed Director of People and Organisational Effectiveness at the Nursing and Midwifery Council (NMC).
She joins the NMC from the General Pharmaceutical Council, where she has extensive experience as a deputy CEO and executive director level leader in Corporate Services, Operations and Human Resources.
Francesca joins the NMC with a strong strategic and operational background in business change and transformation and has a breadth of experience of working in partnership across the government, health, public, not-for-profit and private sectors.
Commenting on her appointment, Francesca Okosi said:
"I am thrilled to join the NMC at this important period of time. The new Strategy emphasises high professional standards, alongside support, fairness and the ambition to influence and work with partners to improve health and wellbeing.

"On a personal note my late mother was a nurse and I have been fortunate to experience the best of nursing care as a patient in the NHS. I am committed to working with Andrea and NMC colleagues on our joint passion for improving patient care and public confidence, along with supporting people to build even more capability to enable the NMC to become even better.

"I am really looking forward to contributing to NMC's strategy at such an interesting time."
Andrea Sutcliffe, NMC Chief Executive and Registrar, said:
"I am delighted to welcome Francesca to the NMC team. This new role is focused on making sure the NMC is a great place to work and a great organisation to work with. Francesca's experience and skills are just right for us and I am confident she will help to embed our values of fairness, kindness, ambition and collaboration in all that we do."
---
Other recent news…
---
---
Andrea Sutcliffe comments on the Skills for Care 'The state of the adult social care sector and workforce in England' report.
I want to...
News categories