'My Future, My Midwife': NMC launches its new Future Midwife Standards in Glasgow
13 February 2020
The Nursing and Midwifery Council (NMC) has launched its new Future Midwifery Standards in Glasgow yesterday, setting out what the next generation of midwives will need to know and learn.
As the International Year of the Nurse and Midwife begins, the celebratory event, held at the Science Museum in Glasgow, is the culmination of two years of work engaging with women, midwives, student midwives and other health professionals to transform midwifery care for everyone.
The standards set an evidence-based benchmark for the profession, creating a foundation for midwives of the future to receive a first-class education and reflect the transforming landscape in which midwives work.
They place an increased focus on continuity of care and carer, and the importance of midwives being a constant presence throughout a woman's maternity journey, ensuring their needs and preferences are met.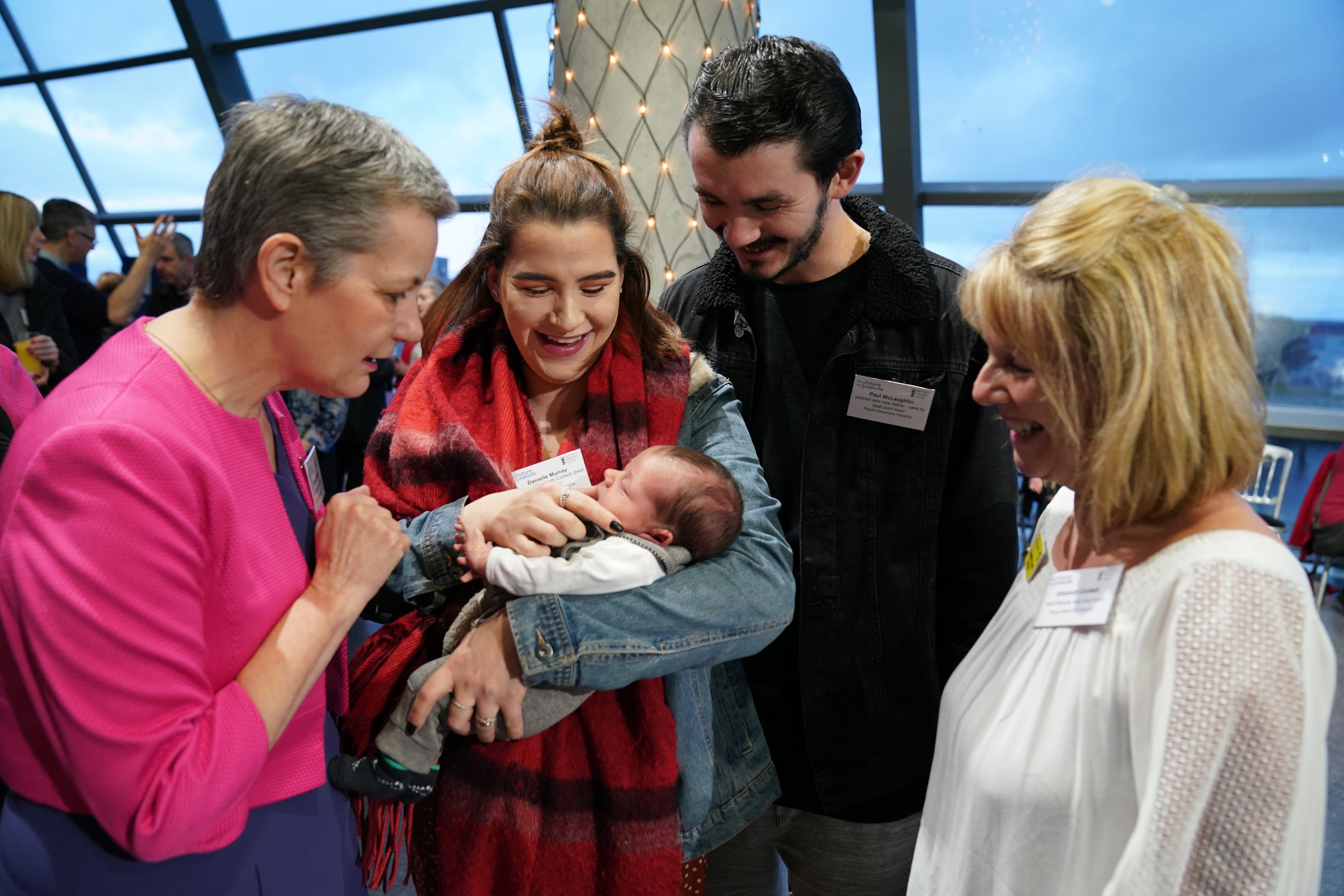 They also highlight the importance of ensuring midwives have the right knowledge, skills and behaviours to identify the individual mental health needs of women as early as possible, as well as the importance of working in collaboration with multidisciplinary and multi-agency teams to provide evidence-based, compassionate and appropriate woman-centred care.
Speaking at the launch yesterday in Glasgow, NMC Chief Executive and Registrar, Andrea Sutcliffe said,
"We shouldn't underestimate how important these standards will be. With more than 3000 midwives and fifty thousand births in Scotland each year, these new standards will touch the lives of more than half a million babies over the next ten years. So it was a tremendous responsibility that we got these standards right.

"That's why I'm so pleased to celebrate today and acknowledge the support and collaboration we've had with midwifery professionals, educators and women and their families across Scotland, many of whom are here today. Their input was invaluable in shaping the standards into the incredible form they are today."
Also speaking at the event was Tricia Murray, mother of four, and the midwife Carol Fullerton who supported and cared for Tricia during her most recent pregnancy. Ahead of the event, Tricia and Carol shared details of the experience.
When Tricia Murray found out she was pregnant with her fourth child, she knew she wanted something different for this birth experience.
Tricia said: "I'd previously had two caesareans. My first pregnancy was twins, so the only option I was given was a caesarean and I went 10 days past my due date with the second, and was told a caesarean was my only option. So when I found out I was pregnant again, I realised I needed things to be different this time."
Tricia, who was worried about getting the same kind of care she'd had with her first two pregnancies, said that everything changed when she met her midwife Carol.
Tricia said: "From the moment we met, I just felt like she understood me. She took the time to listen to my story and understand the reasons why I wanted to try for a home birth this time."
"Carol was my rock."
Carol Fullerton, who has been a midwife in Scotland for ten years, spoke of their first meeting.
Carol said: "I think when Tricia came in, she was expecting a battle and for people to tell her no, that she couldn't have the birth she wanted. Generally for women with her obstetric history, homebirth isn't the usual or obvious pathway."
"But of course, as a midwife, my role is to support women to make informed decisions and choices about their birth."
Carol, originally from Edinburgh, is a community midwife with the Tollcross Birth team near Edinburgh. Her team operates a continuity of care and carer model, where all antenatal and postnatal meetings with mums are done by the same midwife, as far as possible. The midwifery team shares information to make sure the woman's preferences and plans are understood by whoever is on call for the birth.
Carol said: "I think working this way is great because when it comes down to it, midwifery is about having good relationship with the women we care for, so we can be open and honest with them. Meeting with them regularly gives us the chance to develop that relationship and trust."
At their first meeting, Tricia told Carol that she wanted to try for a homebirth. Tricia, who had done research already on home births after previous caesareans, came armed to defend her decision and was surprised when Carol said to her, 'of course, there's no reason you can't do that.'
Carol said: "We went through all of her hopes and desires for the birth in detail, and also shared best practice recommendations and our policies and we worked together to find a happy medium that supported her to birth safely in the way she wanted."
They also made a plan in advance for what would happen if she had to transfer into hospital, with Tricia deciding that she would prefer to have a caesarean if that happened.
Tricia laboured at home for 12 hours, but when her blood pressure became elevated, she decided to go into hospital. She kept with her plan and went ahead with a caesarean but said it was completely different from her previous births.
Tricia said: "It was a lovely, gentle and calm birth. I felt like with my first two pregnancies, I hadn't actually given birth but a c-section had happened to me. But with this one, it was different."

"Birth would be so different if everyone had a midwife like Carol. She listened, reflected and gave me all of the options. And even if she didn't agree with a decision I made, she supported me and respected my ability to make choices for myself."
Reflecting on her experience with Tricia,
Carol said: "What I did from the start was just try to understand why she wanted a home birth, which gave us the chance to have lots of really good discussions."

"Ultimately, we are here to support women and not make their decisions for them. Of course we want to keep them and their babies safe, but it's important that at every step of the way, we respect women and their ability to make informed decisions for themselves and their care."
Jacqui Williams, Senior Midwifery Advisor at the NMC, said:
"Stories like Tricia's show the impact that having the same midwife can have on a women's experience. I'm delighted to see how Carol supported Tricia with respect, kindness and understanding, and worked with her to give her the information she needed to make decisions about her care.

"All women deserve the opportunity to develop the kind of relationship with their midwife that Tricia did with Carol.

"The role of a midwife is such a unique one in that we are able to quickly develop strong relationships with women and so have an amazing opportunity to use this to support and empower them to make informed decisions about their care.

"That's why this principle and that of the role of the midwife in providing continuity of care and carer are a strong focus in our new Future Midwife Standards."
Professor Ann Holmes, Chief Midwifery Officer and Deputy Chief Nursing Officer for the Scottish Government, said:
"I am delighted to be part of the celebrations as we recognise the new Future Midwife Standards. These standards set out an ambitious level of proficiency for midwives across Scotland, to ensure that all women, babies and their families get the highest quality of care according to their needs.

"The Scottish Government and a wide range of stakeholders in Scotland have valued being part of the co-production process to develop these standards and as Chief Midwife, I would like to congratulate the NMC for their important role in setting a world-leading direction for midwifery in Scotland."
Mary Ross Davies, The Royal College of Midwives (RCM) Director for Scotland, said:
"These standards will ensure that our midwives are trained and equipped to offer women like Tricia the best possible care. Her experience highlights the critical part that continuity of carer can play in ensuring safe and personalised care, and how midwives can be advocates for women. It also shows how important that relationship between the woman and her midwife is.

"The focus in the standards on continuity is important and welcome. With these standards and the right numbers of staff and resources in place, I look forward to our maternity services proving the safest possible care to our mothers, babies and their families."
Ends
Further Background
Get involved in the conversation on Twitter @nmcnews #FutureMidwife
Read more information about the Future Midwife Standards here
As well as Glasgow, the NMC held celebratory 'My Future, My Midwife' launch events in Belfast, Cardiff in January and will hold one in and London (February 12).
For further media enquiries, please contact the Kelly Whiting in the NMC press office on 0207 621 5894 or email media@nmc-uk.org