Blog: Donna Ockenden meets maternity teams who help the bereaved
Published on 17 October 2019
In recognition of Baby Loss Awareness Week 2019, (#BLAW2019) I spent the last few days visiting maternity services in the southwest of England and saw how midwives and the wider maternity teams, including chaplains and local and national charities, support local families when they are bereaved.
It was a privilege to join maternity staff and families at the Royal Devon and Exeter (RDE) NHS Trust to celebrate their service of remembrance in the new location for their baby memorial garden on Saturday. (Memorial tree pictured left).The garden is being developed and supported by many local families. I was very humbled and moved to join local families, midwives and the hospital chaplaincy team to remember and honour those babies no longer with us.
From Thursday to Monday I visited the Royal Cornwall Hospital, and two Cornwall community midwifery services, at Penrice and Helston, the RDE and Plymouth. During these visits, I saw so many examples of good practice, thoughtful, kind and compassionate care.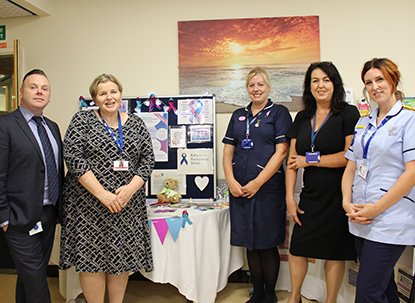 At University Hospitals Plymouth, the Trust, (some of the team pictured left), supported by local families, is developing a new bereavement suite. In Cornwall, they have introduced a new counselling service in a setting away from the maternity unit, funded by the local charity 'Ella's Memory'.
Across Devon and Cornwall, I consistently saw a huge commitment towards providing safe and high quality maternity care that was close to home whenever possible There's been a lot of progress across the four countries in how we, as midwives, support families through a loss, but we know from feedback from both midwives and families, there's still a way to go.
Helpfully, the new midwifery standards look specifically at how midwives support those suffering a bereavement.
They set out how midwives will need to work in partnership with women and their families to provide compassionate and empathetic care when experiencing a loss. And they include specific responsibilities like supporting palliative care and allowing parents opportunities to spend as much private time as they wish with their baby.
There are already many examples of midwives and maternity teams delivering incredible bereavement care in line with the new standards.
As we come reflect on #BLAW2019, I wanted to share with you a little bit about one of the teams who is making an enormous impact on their local community.
Royal Cornwall Hospital
On Friday last week I met with Karen Stoyles, midwife, and the recently expanded bereavement team at the Royal Cornwall Hospital. They have done some truly incredible work in partnership with local charity Ella's Memory to support families experiencing loss.

I spoke with Karen about her 35 year long career and why she chose to come out of retirement to continue her work as a specialist bereavement midwife. But I'll let Karen tell you more about this.
Karen Stoyles, Bereavement Midwife at Royal Cornwall Hospital
(pictured with colleague, Kate Putman, both members of the Royal Cornwall Bereavement team)
"I've been a midwife for nearly 35 years, most of it has been spent at the Royal Cornwall Hospital. It was a gradual process, becoming a bereavement midwife. As a student midwife in the 1980s it was definitely not something I thought would be the focus of my career.
"Back when I started, bereavement care was nowhere near what we provide today. Women were lucky if they got a single Polaroid picture of their baby to remember them by. There was little acknowledgement of their mental health and women were expected to just get on with life afterwards.
"I remember the first woman I looked after who suffered a loss. She was on her own, with no family support and the midwives seemed uninterested, which just didn't sit right with me.
"I sat with her and gave her the space she needed to grieve her loss, letting her know that I was there for her.
"Since then, I've been passionate about supporting women and their families who've had a loss, when and how they need it. It's so important to provide individualized care because not every family will need or want the same kind of support.
"Some of the things that have worked well for us at the Royal Cornwall have been providing continuity of care as much as possible. Midwives, where they can, will organise their shifts to support families throughout the process. We have also developed strong relationships with gynaecological and obstetric colleagues, so we can work as a team to support families as they move through our services.
"We also make sure any changes to our services are parent led. Social media has been a great benefit to us in helping to spread the word about our work and to engage with parents to continue to improve.
"For midwives looking to develop their bereavement services, I'd also say, look to your local community for support.
"We are so lucky to work with an incredible local charity called Ella's Memory, who have helped us make many positive changes to support families. They helped us create a bereavement suite with a private entrance, a refurbished bereavement suite in our antenatal ward and they commissioned a metal sculpture of a willow tree for our garden, where parents can have a leaf dedicated to their baby.
"Most recently, we've worked with them to develop a welcoming offsite bereavement counselling room, which is so comfortable we've had to offer extended counselling appointments because parents, using a facility away from the maternity unit, are able to open up.
"I think it's important that all hospitals have access to a bereavement specialist midwife. But as we know, these tragic losses can happen anywhere, at any time, so it's very important all midwives have the skills and language to support families. I know many midwives can be scared of saying the wrong thing, but families tell me it's worse to say nothing at all.
"Finally, we have to acknowledge that this is difficult and deeply emotional work. It's important to take care of yourself, speak to your colleagues, and take breaks where you need to. As the saying goes, 'We can't fill from an empty cup', so we must take time to debrief with colleagues after difficult experiences.
"But it's the feedback from families that makes it all worthwhile.
Parents have told me they 'can't put into words' what the support we've given means to them. And seeing the community come together to support each other is truly moving. We have a group of women who've had a loss go on to create patchwork quilts and crocheted butterflies to give to other parents experiencing loss. There really is a sense of parents who have suffered a loss being there for others."
Future visits
It's been a busy year, with many visits to midwives, student midwives and maternity services across the UK. I will continue these visits in 2020, so please do get in touch if you'd like me to visit your service or university.
As always I make sure that examples of the work and feedback that is shared with me reaches the very heart of the NMC. I know how important it is to the NMCChief Executive, Andrea Sutcliffe, and the wider NMC team that we understand and appreciate the reality of delivering midwifery and maternity care in today's services.
You can get in touch with Donna on Twitter @DOckendenltd or via email at donna.ockenden@nmc-uk.org
---
Other recent news…
Published on 05 July 2021
Our Chief Executive and Registrar, Andrea Sutcliffe, explains why your involvement in our consultation on draft standards for community and public health nursin
---
Published on 02 June 2021
In her latest blog, Andrea Sutcliffe, our Chief Executive and Registrar, explains what we're doing to improve how we regulate, for the benefit of the people we
---
Published on 13 May 2021
Our Executive Director of Strategy and Insight, Matthew McClelland, explains why the Government's proposed changes to our legislative framework will allow us to
I want to...
News categories