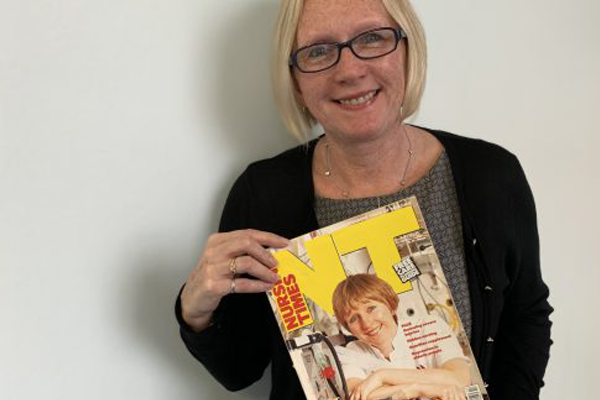 The first thing Sue West was taught when she started her nurse training in May 1979 at St Bartholomew's Hospital in London was how to make her own hat.
Being away from home meant her training was "lonely" and she said:
"On my first placement, I would find myself hiding in the sluice crying, pulling myself together, and asking myself what I'd done."
By the time she qualified in July 1982, a week after she got married, she landed a staff nurse post at Harefield Hospital in the cardiothoracic surgical unit.
She loved it so much that she abandoned her plans to be a midwife and in 1984, took the English National Board cardiothoracic nursing programme.
"I enjoyed it so much that I told my tutor I wanted his job," she said. From there, she took up a staff nurse post in the paediatric surgical unit at Harefield Hospital and spent the "best nine months" of her clinical practice.
"I remember a little boy who had recently had a heart and lung transplant coming running down the ward," she said. "He was waving his arms shouting – I've got my powers back!"
However, as she was general nurse trained she could not be promoted to sister without a children's qualification. So, in 1985 she began work at High Wycombe General Hospital in the coronary care unit. This role also had a teaching remit.
From there, her love for imparting knowledge onto others grew and she was successfully appointed to a sister's post in the intensive care unit in December in 1986. The role allowed her to increase her knowledge and skills, while also pursuing her passion of teaching others.
Then, in 1987, she received a telephone call from her old cardiothoracic tutor asking if she wanted his job – the one she had first asked about a few years earlier. "I took the opportunity and it was a very scary moment," she recalls.
The highlight of her career was in 1991, following the successful completion of a Diploma in Nursing. During which time, she gave birth to her son.
She said: "I decided to submit the care study I wrote as part of my diploma to the Nursing Times' care study competition and won first prize.

"This led to my first publication and the opportunity to be the cover girl of the Nursing Times. It was my proudest moment. This ended up being the first of 10 articles I have published over the years."
To progress from clinical teacher to tutor, she had to undertake a two-year, full-time honours degree in nursing with education at the Royal College of Nursing.
She started this in 1992, while three months pregnant with her daughter, Kimberley, who is now a registered children's nurse, and completed it in 1994.
She spent the next 24 years working and progressing her career in higher education, working at Buckinghamshire New University as a lecturer and later, principal lecturer for critical care to the Dean of Faculty at Buckinghamshire New University.
In 2003 she completed her Master's degree in cardiorespiratory nursing and, in February 2010, she became the academic dean.
As part of her role, she was also the university official correspondent for the Nursing and Midwifery Council – a role acting as the link between the university and the regulator.
She was responsible for running quality assurance checks and ongoing monitoring of NMC approved programmes at the university.
Her career in the education sector was moving her further away from the profession she loved, so in April 2018 she started work as a senior nursing education adviser at the NMC.
"This role meant I could utilise the knowledge and experience from both practice and education that I have gained over the years."
She is now leading on the implementation of the new standards of framework for education and the future nurse project. But working for a regulator, she said, has been a steep learning curve.
"It is a complete change from my previous job. I have both an internal and external facing role, so I have been able to make new contacts while using my old ones.

"The people I work with are just great and happily seek my advice when needed," she said. "I get great satisfaction by making a difference to the work we do."
Her career has seen her teams win a number of awards, including the Student Nursing Times Awards for Provider of the Year for Post Qualifying Nursing in 2015, Partnership of the Year in 2016, Teaching Innovation of the Year in 2018 and the Guardian Award for Teaching Excellence in simulation and moulage activity.
She added: "Nursing has been both my life and career, but it's about how I've always felt privileged to be working with people at their most vulnerable and enabling others to make a difference.

"When I worked in a hospital setting, I knew that I could make a difference to families, even if there was going to be a sad outcome."
Speaking about the future of nursing, she said:
"The role will see nurses taking on a more leadership, decisive and diagnostic role.

"It will be much more focused on digital technology in way they do things, but at the heart there will always be compassion for the people in our care," she said.

"If student nurses lead from the day they start the profession, they will be able to focus and guide it in the right direction, they must take every opportunity to learn and progress."
She added:
"We need good leaders to enable others to join the vision we have for nursing, to ensure we continue delivering safe and compassionate care."
---