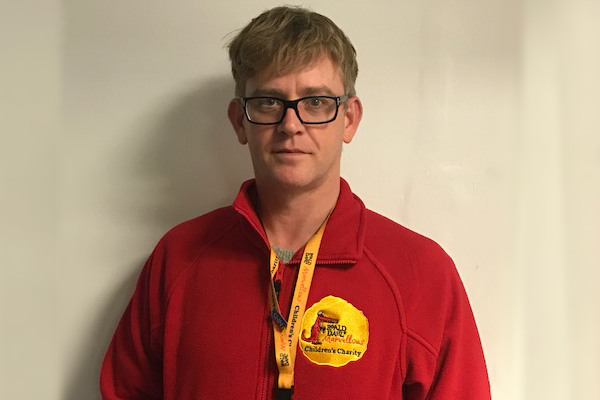 When Neil Fletcher told his friends he wanted to be a nurse, their initial reaction was: "But that's a girl's job."
He found his calling as a nurse during his O-levels, when students were required to take on a weeks' worth of community service.

He picked an older people's home and enjoyed speaking to people who didn't have anyone else and helping them perform simple tasks, such as walking to the toilet.

In fact, he loved it so much that he asked the owners if he could go back and spent an evening one evening each week bonding with the residents.
"My persistence came off and at weekends, they gave me a job as a care assistant," he said.
Undeterred by his friend's jibes, he started his training at Stepping Hill Hospital in his local area of Stockport.

It coincided with the start of popular TV drama Casualty, which featured male nurses and helped diffuse some the stereotype that only women should be nurses.
"I was pretty excited and nervous when I got my PIN," he said. "It's such a big learning curve."
After his training, he started working on an all-female medical ward for the elderly.

Three weeks later, he was put in charge of a ward for the first time after the most senior nurse on a night shift called in sick.

He said:
"It was daunting but I realised that they'd done this because they had faith in me, otherwise they'd have moved the rota around."
Neil soon realised he wanted to work in A&E – not because he loved the buzz of it all – but to work with people of all different age ranges.

To gain more experience, he took on a role on a neurosurgery ward before starting work in the A&E department of Central Middlesex Hospital in London.

It was the first time he'd ever looked after someone with sickle cell anaemia and he enjoyed learning about new, rare medical conditions.

He then worked at University College Hospital in London, where he was lucky enough to study a children's nursing course.

Speaking about the way the nursing role has changed, he said:
"It's important to move with the times.

"It seems phenomenal to me that during my training, nurses weren't taught to take blood or put cannulas in.

"People go into nursing because they're caring and I fundamentally get that, but I think now it attracts a range of people – teachers, educators, researchers, auditors, creators.

"There are so many specialities now that didn't exist in my day."
And what advice would he give to a nurse of the future?
"I was always told to learn two new things each day," he says. "If something's happening and it's out of your depth, don't bottle it up.

"Some days you'll be knackered but talk to your mates, your families, your friends, and most importantly, enjoy it."
---