Dr Jagir Sekhon's nursing story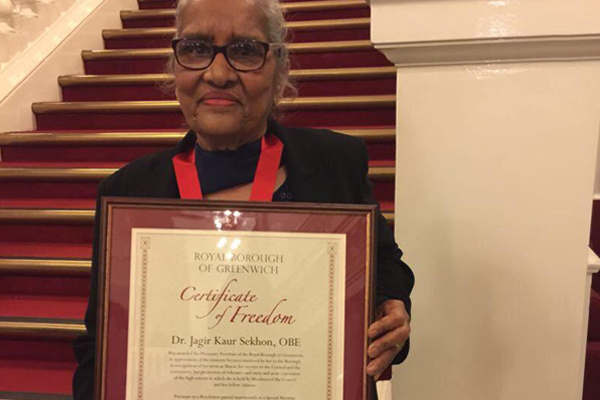 Dr Sekhon graduated from Christian Medical College in India and qualified as a nurse in June 1963.
She spent five years working for as a neurosurgery and cardiac nurse, but when she spotted an advert in the newspaper, she made a life-changing decision.
She said:
"I saw that the government in the UK wanted specialist nurses from abroad to relocate to the NHS.

"I visited the High Commission in New Delhi and they gave me a choice of hospitals with cardiothoracic wards that needed more nurses."
She chose Brook General Hospital in Greenwich and started work the day after moving to London – in August 1968.
Dr Sekhon continued working in a range of different nursing roles both full time and part time as she had her children; who, despite Jagir's many accolades, are still her proudest achievement.
Interested in travelling more, Jagir temporarily relocated her family to America in 1987 where she continued to be a nurse.
But it wasn't long before she felt the pull to come back to the community she once served and in 1989 she returned to London to work as a health visitor. She attended Greenwich University and studied for both a diploma and an MSc in Health and Social Welfare.
Before long, she started being more engaged politically with the same community that had welcomed her when she first moved to the UK.
In May 2000 she was elected as Mayor of the Royal Borough of Greenwich and has fond memories of celebrating her inauguration.
The year 2000 ended up being exceptionally busy for her.
She said:
"While I was both a health visitor and the mayor, I felt like I was in the local papers every single day.

"In particular I enjoyed working with the 'Our Town Story' project where each local authority in the UK was invited to the millennium dome to perform a show that expressed their community. I would start the day working with families as a health visitor and then end the day welcoming children from across the UK to the dome. It was wonderful."
It was after this busy year that she was nominated and awarded an OBE for services to her community.
The awards continued with her receiving a Sikh Woman Achiever award from then London Mayor Ken Livingston as well as an honorary doctorate for her work with Greenwich University mentoring students and representing healthcare professionals in education.
But in 2017, Dr Sekhon received the award that now takes pride of place in her living room: Freedom of the Borough from the Royal Borough of Greenwich.
She said:
"It is the highest civic award that they can give and it is for my "eminent services to borough council and community,"
So after an illustrious career giving back to her community, what advice would Jagir have for the nurses of today?
"Commitment, time management and dedication. Be 100% trustworthy and do your best. Do not change your principles and do not compromise nursing standards for anything. People are with you if you are trustworthy."
---