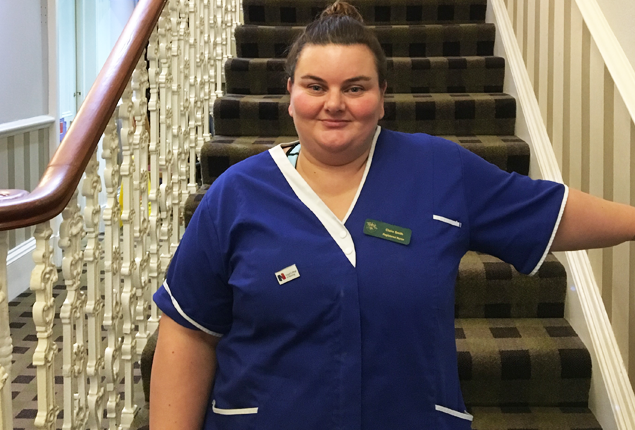 "Becoming a nurse felt like a natural next step for me. I had been a full-time carer for my daughter. And before that, I had looked after my uncle towards the end of this battle with Chronic Obstructive Pulmonary Disease."
It was these two deeply personal experiences that motivated Claire Smith to volunteer as a carer, to enrol at university and begin her pathway towards registration as a nurse with the Nursing and Midwifery Council (NMC).
Claire is a care home nurse from Ayr on the west coast of Scotland. A year into her career as a registered nurse, and as she starts a master's degree in health studies, she elaborates on why she became a nurse.
"During the time I was caring for my uncle, I witnessed an amazing nursing team work quickly but with so much care and it inspired me to apply to university and to become a nurse," Claire says.
What nursing means to me
As we celebrate 100 years of professional pride on the anniversary of the Nurses Registration Act 1919, the NMC will be hearing from nurses about what it means to be a nurse. For Claire, it means everything.
"Becoming a nurse was the best move I've made," Claire says. "To be able to help make a patient's day better, that may be pain control or something as simple but so important as holding a hand – it's what makes it all so worthwhile. Nursing means everything to me."
Having expected to find herself on a hospital ward, Claire's career took a slightly unexpected turn.
"When I went into nursing, I always thought that I would work in a hospital," she says. "That changed when I started in the care home I work at in the town of Ayr on the west coast of Scotland. I really value the continuity of the care with the residents."
Always learning
For Claire, who's about to start a master's degree, excellent nursing means both caring and the continuous quest of learning.
"Nursing is so much about compassion – but we can't deliver compassion without high standards of care," she says. "It's part of what it means to be a nurse. We have to be learning. Always. In a few weeks' time I begin studying for a masters in health studies."
Claire will begin her masters, which is a distance learning course that she'll undertake as she continues her full-time job at the care home, with a module in public health, a subject she's especially interested in.
"There's so much happening in public health right now – so many new challenges that come from the population living longer. It's [the master's degree] going to help me to continue to grow, to learn and, ultimately, to improve the care I can provide to my residents. I can't wait to get started."
Pride in her profession
Nursing is one of the most trusted professions in the UK and nurses feel a deep sense of pride. Claire's proudest moment in her first year of nursing provides an insight into the kind of experiences that shape nurses.
"I've been a nurse for almost a year," Claire says. "In that time, my proudest experience is also one that was really difficult – the first time I provided palliative care for my patient. Giving high-quality care means so much to a family who are losing someone. I was so humbled to learn from my manager that the family had invited me to the funeral of their loved one after her passing. And to hear from them what the care I was giving meant for them."
---