Catherine's nursing story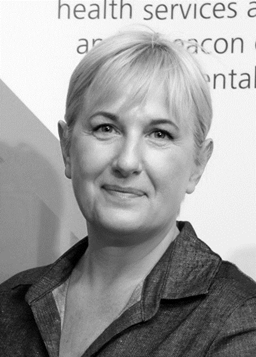 Catherine Gamble works at the Royal College of Nursing as a professional lead three days a week, seconded from the South West London and St George's Mental Health Trust, where she still works two days a week as the head of nursing practice education and research.

When she was 17, Catherine Gamble was in a serious car crash.

She didn't know it at the time, but it set off a chain of events that would see her become one of the United Kingdom's top mental health nurses.
"I went through a car windscreen and needed 84 stitches on my face," says Catherine.

"I had plastic surgery but the experience sent me a bit all over the place. I didn't get my A-Levels as a result.

"Nobody talked about the psychological trauma of what happened; it just wasn't the done thing at the time. Friends went to university; I was unemployed, volunteering for social services or doing seasonal shop work.

"I also have dyslexia, which also knocked my confidence."
Her Godmother was Val Cowie, the Royal College of Nursing Director of Labour Relations, who spearheaded the stewards' training and the 1980s grading pay review.
"I had so many people who believed in me and she, alongside my family was amongst them," says Catherine.

"I wasn't initially serious about a nursing career; but to keep everybody happy I applied to do General Nursing at the Derbyshire Royal Infirmary.

"For the interview I wore a flamboyant outfit, including bright purple boots. My intention was to challenge the stereotypical nursing image – they wouldn't, I decided want me if I didn't look the part and arty and feisty."
To her sheer surprise, she was accepted and started her training aged 19. At the time, she'd never even heard of mental health nursing but found listening to people's experiences and making sense of them fascinating when on psychiatric placement.

She qualified in 1985 working in Derbyshire Royal Infirmary's Accident and Emergency Department later being offered a place to study mental health nursing in South Manchester.

From there, she got a job as a staff nurse on an acute 32-bed ward at the psychiatric unit at the Withington Hospital in South Manchester, rapidly being promoted to deputy ward nurse.

After reading about 'Expressed Emotion in Families' research by Professor Julian Leff, a schizophrenia expert, she knew she had found her vocation.

But it was a chance visit to a friend's house in Camberwell, London that really kick-started her career. Her friend pointed out there was a hospital down the road from the squat she was living in and said "why don't you go and work there?"

So she did. She applied for a deputy ward manager job at the Maudsley Hospital in South London – and ended up on the same ward as Professor Julian Leff working with those with psychosis and their families.
"He really promoted my career," she credits.
In 1991, she won an exchange scholarship to spend six months in Adelaide in Australia looking at how people with schizophrenia were treated.

When she returned to the UK she was offered a job as a ward manager but fully intended to go back to Australia, until Professor Leff offered her an opportunity she couldn't refuse.

Funded by the Sir Jules Thorn Charitable Trust, Leff and his eminent colleagues wanted her to train mental health nurses in psychosocial interventions. The programme's aim was to develop the equivalent of a Macmillan nurse for those with schizophrenia - dubbed the Thorn Training Initiative.
"I was the only practicing nurse and female on the board and had never written a curriculum before, but at its peak there were over 80 'Thorn' programmes across the UK, this generated a lot interest affording me the opportunity to share the evidence internationally and here I am 35 years later, still training people to work with psychosis," she says.
In 1994, the Royal College of Nursing asked her to set up the first mental health degree nursing programme, something she is immensely proud of.

And in the last 30 years, Catherine has gone from having zero confidence in herself due to her dyslexia to achieving a first class honours degree, becoming a registered nurse tutor, conducting research as a consultant nurse and writing over 50 mental health publications.

Catherine is passionate about promoting equality, fighting stigma and has helped many people on the road to recovery, but as a dual trained nurse one of the proudest moments came in 1996, when she was in the pub with a colleague.
"Suddenly it all went quiet and I had a nurse's intuition," she recalls. "I went over to the bar to ask whether everything was OK – and the landlady threw what I thought was a big bundle of clothes at me.

"I suddenly realised it was a baby, around 18 months old, having a febrile convulsion, he had overheated.

"I stripped off all his clothes to cool him down, but his condition still deteriorated. He stopped breathing and went blue. I started resuscitating him and his colour came back.

"It was very humbling to be in the right place, at the right time with the right physical and psychological nursing skills" l am deeply grateful for the part I was able to play."
Today, she works at the Royal College of Nursing as a professional lead three days a week, where she is responsible for providing evidence for policy makers, commissioners and providers, while ensuring the Royal College of Nursing influences and supports the mental health nursing workforce to face new challenges.

She has been seconded from the South West London and St George's Mental Health Trust, where she still works two days a week as the Head of Nursing practice education and research.
"Mental health nursing can be challenging, but I love the way I am in a now in a position to facilitate my patients and their families to talk about their experiences and help shape services," she says.
Catherine has also won the Royal College of Nursing Mental Health Nurse of the Year award and is the Royal College of Psychiatrists Team winner.

Speaking about her experiences of the Nursing and Midwifery Council (NMC) she praised the new, kinder, more person-centred Fitness to Practise (FtP) approach.

She said:
"I am delighted Andrea Sutcliffe has been taken on, with new ideas on how to be inclusive."
She added:
"I see nursing as a specialism and a chance for us to reclaim our territory.

"In the next 100 years, people will have a far greater understanding of the role of mental health nursing; the image will have moved from Florence Nightingale and be attracting the diverse communities that reflect the people we serve."
---