The Code for nurses and midwives
The Code and resources
The Code presents the professional standards that nurses and midwives must uphold in order to be registered to practise in the UK.
Effective from 31 March 2015, this Code reflects the world in which we live and work today, and changing roles and expectations of nurses and midwives. It is structured around four themes – prioritise people, practise effectively, preserve safety and promote professionalism and trust. Developed in collaboration with many who care about good nursing and midwifery, the Code can be used by nurses and midwives as a way of reinforcing their professionalism. Failure to comply with the Code may bring their fitness to practise into question.
Download the Code in Welsh
Additional information on conscientious objection
What the Code means for patients and employers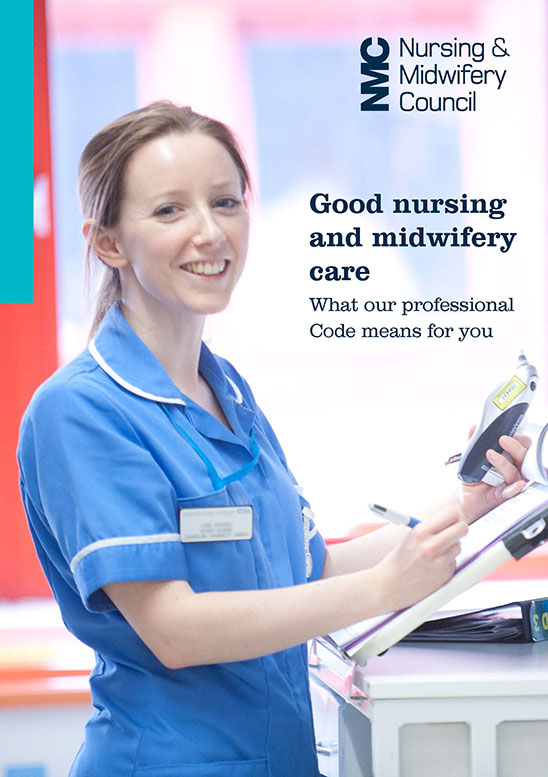 'Good care from Nurses and midwives' [PDF] explains what a professional Code means for patients and service users and the kind of care they can expect.
Download this leaflet in Welsh [PDF].
We have also produced an easyread version of the leaflet [PDF]
'The new NMC Code - Professional staff, quality services' [PDF] shows how the professional standards and principles of the Code are important to employers of nurses and midwives.
Download this leaflet in Welsh [PDF].
Code resources
We have produced a series of A3 posters about the revised Code [PDF]. Download these posters in Welsh [PDF].
This slide deck [PPT] introduces the Code. Download this slide deck in Welsh [PPT].
Our FAQs document [PDF] outlines the role the Code has in our work and what it means for nurses and midwives. It also describes what the Code includes and why it has been reviewed. Download these FAQs in Welsh [PDF].
Previous version of the Code
Published in 2008, the previous version of the Code set the standards for nurses and midwives until 31 March 2015.
Find out more about our work and role