Professor Jane Cummings
Chief Nursing Officer for England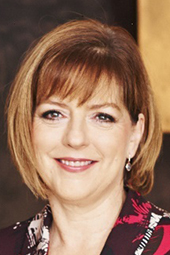 Jane was previously a nurse specialising in emergency care before progressing into general management. She has held a wide variety of clinical and managerial roles including director of commissioning, director of nursing and deputy chief executive. In February 2014, she became the National Lead for Emergency Care.
In 2011, she was appointed to the role of Chief Nurse for the North of England SHA Cluster. The next year she began the full-time position of Chief Nursing Officer for England and is the professional lead for all nurses and midwives in England (with the exception of public health). Jane published the 6Cs (care, compassion, competence, communication, courage and commitment) and Compassion in Practice in December 2012.
Jane is the NHS England national director sponsor for the programme to transform care for people with learning disabilities and chairs the delivery board. She is also the lead national director for maternity.