Raising concerns: Guidance for nurses, midwives and nursing associates
Our guidance on raising concerns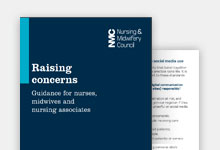 This document provides guidance for nurses, midwives and nursing associates on raising concerns (which includes 'whistleblowing').
It explains the processes you should follow when raising a concern, provides information about the legislation in this area, and tells you where you can get confidential support and advice.
About the guidance
The guidance is supported by Helene Donnelly, ambassador for cultural change at Staffordshire and Stoke-On-Trent Partnership NHS Trust, who spoke to our Council about raising concerns. Helene's talk is available to watch below and on our YouTube channel.
The guidance was the first of our publications to achieve the Plain English campaign's Crystal Mark for clarity.
See our resources to help facilitate discussion and promote the importance of raising concerns in the workplace. Also see case studies on raising concerns.
See our information about whistleblowing
Links