Record keeping guidance
Record keeping is covered by the Code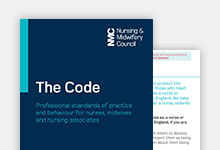 Nurses and midwives should keep clear and accurate records which are relevant to their practice.
Record keeping is covered by the Code.
There is no specific document on keeping records - all nurses and midwives should refer to the Code for this guidance.
For more details, read and download the Code.