Standards for medicines management
Standards for medicines management
Medicine management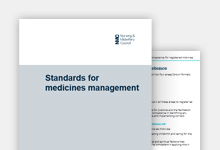 Medicines management and prescribing in the UK are governed by a complex framework of legislation, policy and standards. Our Standards for medicines management make it clear that it is necessary for nurses and midwives to refer to local and national policies.
We work with agencies to make sure that public protection in medicines management and prescribing is maintained, and that nurses and midwives are directed to other sources of help where appropriate.
This standard was published in 2007 and replaces the Guidelines for the administration of medicine.
Circulars
NMC Circular 05/2009
First published: September 2009
Supply and/or administration of medicine by student nurses and student midwives in relation to Patient Group Directions (PGDs).
NMC Circular 16/2008
First published: December 2008
Remote assessment and prescribing.
Links
Standards for medicines management
The Human Medicines Regulations 2012
The Resuscitation Council (UK)
The Medicines Healthcare products Regulatory Agency (MHRA) website
Find out about revalidation