Standards for student supervision and assessment
Standards for student supervision and assessment
Part 2 of Realising professionalism: Standards for education and training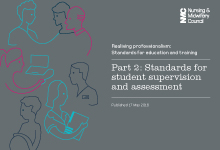 These new standards may be used from 28 January 2019. Helpful resources and FAQs can be found at the bottom of this page but if you can't find what you're looking for, feel free to email us.
Our new Standards for student supervision and assessment (Cymraeg) set out our expectations for the learning, support and supervision of students in the practice environment. They also set out how students are assessed for theory and practice learning.
Why these standards matter
These standards aim to give approved education institutions (AEIs) and practice learning partners the flexibility to develop creative approaches to education, while still being accountable for the local delivery and management of approved programmes in line with our standards.
The student journey
The structure of the standards follow the student journey:
Effective practice learning
Find out what needs to be in place to deliver safe and effective learning experiences for nursing and midwifery students in practice.
Supervision of students
Read about the principles of student supervision in the practice environment and the role of the practice supervisor.
Assessment of students and confirmation of proficiency
Understand what we require from educators who are assessing and confirming students' practice and academic achievement. In this section we also describe the roles of the practice assessor and academic assessor.
This document is available in a print friendly version (Cymraeg).
Using the standards
It's important to read these standards along with the other parts of Realising professionalism: Standards for education and training:
Part 3: programme standards for the course that is being delivered
the relevant standards of proficiency.
So for nursing that would be Future nurse: Standards of proficiency for registered nurses and Standards for pre-registration nursing programmes.
Reading them together provides a complete picture of:
what nurses and midwives need to know and be able to do, by the time they register with us
our expectations of universities and their practice learning partners for delivering NMC-approved programmes for nurses and midwives.
Supporting information
We're developing some supporting information on our standards for student supervision and assessment to help with the implementation of the new standards.
This supporting information relates to all standards that deal with student supervision and assessment. It's not a series of standards that must be met, but will offer examples of how our standards may be implemented.
Webinar recordings
As part of our work supporting AEIs and practice learning partners to implement our new education standards, we'll be running a series of webinars exploring specific themes that people have told us they'd like more information on.
Watch a recording of our webinar on the roles of the practice and academic assessor. You can also view the slides that were presented in the session.
Answering your questions
For the past two years we have been developing these standards with input from stakeholders across the UK. We put our proposals to consultation in summer 2017 and listened closely to the feedback we received. Find out more about how the standards were developed.
You'll need to be aware of the new roles of practice supervisor and practice assessor and, where relevant prepare yourself to become one. These roles will replace the current mentor and sign off mentor roles. Your employer and your partner education institution(s) will decide who will be the supervisors and assessors. They'll also determine the appropriate preparation and ongoing support you'll need if you should become a nominated supervisor and/or assessor.
We will not be setting standards for, or approving education programmes to support these new roles as we did for mentor and education roles.
If you are going to be a supervisor and/or an assessor, you'll find our supporting information below useful.
Supporting information on standards for student supervision and assessment