Revised Code for nurses and midwives
Published on 29 January 2015
The Nursing and Midwifery Council (NMC) has today published a revised Code which places public expectations at the heart of good nursing and midwifery practice.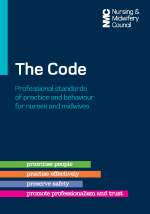 The Code will be sent to all nurses and midwives before it becomes effective on 31 March 2015.

Jackie Smith, Chief Executive and Registrar of the NMC, said:
"The Code sets out the professional standards for nurses and midwives. When someone joins the NMC's register, they are committing to uphold these standards when they practice."

"The Code will strike a chord with the nurses and midwives who already demonstrate these principles in their practice. It will put patients at the heart of practice, and will help us to protect the public better."
The revised Code builds on the content of the current version, which was published in 2008. Jackie Smith continued:
"Public expectations of care have changed radically since the Code was last reviewed in 2008. It is essential that the Code reflects patients' needs, modern healthcare practice, and the recommendations of reviews such as the Francis Inquiry."
The Code has been written with the input of many patients, carers, nurses and midwives. It is shaped around four statements, which state that good nurses and midwives will:
• Prioritise people,
• Practise effectively,
• Preserve safety, and
• Promote professionalism and trust.
The Code will be central to revalidation, which is a series of three-yearly checks that the NMC is introducing at the end of 2015.
---
Other recent news…
Published on 19 February 2018
Geraldine Walters, Director of Education, Standards and Policy gives the latest on our education programme
---
Published on 31 December 2016
New Year Honours 2017
---
Published on 30 November 2016
NMC responds to Government announcement on nurse career pathways
I want to...
News categories