Blog: Education programme update
Published on 19 February 2018
Geraldine Walters, Director of Education, Standards and Policy gives the latest on our education programme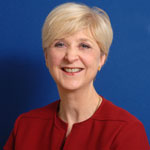 Last year was a huge year for our education programme for both nursing and midwifery. This year is set to be just as exciting as we continue to drive forward a radical overhaul of our education standards for nurses and midwives, and continue to develop regulation for the new nursing associate role.
In spring 2018, we will launch our new standards of proficiency for nurses and the new standards for education and training. This follows a large amount of hard work throughout 2017, which saw us carry out a consultation on these proposed standards.
It was really encouraging to see so many responses to our consultation. Over a thousand individuals and almost 300 organisations gave their feedback on the skills and knowledge the future nurse will need, as well as our proposals on prescribing and medicines management. Respondents included charities, educational institutions, other regulators and NHS trusts. Throughout the consultation period we held events across the country, attended by over 300 people – we also held webinars and Twitter chats allowing us to reach out even further.
As part of the consultation it was vital that we also heard from patients and the public, as ultimately they are the people who will be receiving care from the future nurse. We created a patient and public version of our survey for non-health professionals to share their thoughts. Nearly 5,000 people got in touch and shared their views, which has given us an enormous amount of feedback to consider.
In addition to the consultation, we engaged with a number of groups in face to face meetings. Mencap, Mind and others helped us to organise focus groups with people with a learning disability and mental health problems, older people, and children and young people
Overall we had a fantastic response during the 12 week period. The proposed standards created a healthy debate but, on the whole, the majority of our proposals were well received. Since the consultation concluded, our education team has been working very hard, looking at and considering each piece of feedback we received. Universities will begin to design programmes from the launch in spring 2018, with the aim of full implementation over the following 18 months.
This year, we will hear from as many midwives, women, families and health care professionals as possible to gain their views and inform our work to develop new standards of proficiency for midwives. We have already started listening - in the autumn last year we held workshops in Belfast, London and Manchester. We will continue to hold listening events this year across the UK, with one workshop held last month in Cardiff, and another planned for Glasgow. We will also be holding webinars and focus groups. Find out about our upcoming events.
Work in this area is well underway, with a group of practising and student midwives, midwifery educators, and advocacy groups, with representation from all four nations, established to provide expert advice as we develop our proposed standards. We call this our future midwife Thought Leadership Group. We have also established a wider online group who will inform and comment on the project, our virtual Thought Leadership Group, which is open to anyone with an interest. This provides updates on our progress and invites to events. We have already met with many key groups to discuss the standards and hear their thoughts – such as Maternity Action, Mumsnet, Terrence Higgins Trust and the National Childbirth Trust to name only a few.
In spring 2018, we're planning to launch our consultation on the requirements and standards for nursing associates. We're currently developing these, working closely with a range of experts, educators, healthcare professionals and patients. We'll set standards of education, training, conduct and performance for nursing associates once we are legally the regulator. A busy programme of work is underway as we prepare to take this on, and we aim to open the register in January 2019.
Without a doubt, the education team certainly have a busy year ahead and I look forward to being able to update you later in the year as to how the programme is progressing.
---
Other recent news…
Published on 31 December 2016
New Year Honours 2017
---
Published on 30 November 2016
NMC responds to Government announcement on nurse career pathways
---
Published on 01 April 2016
Revalidation is live
I want to...
News categories