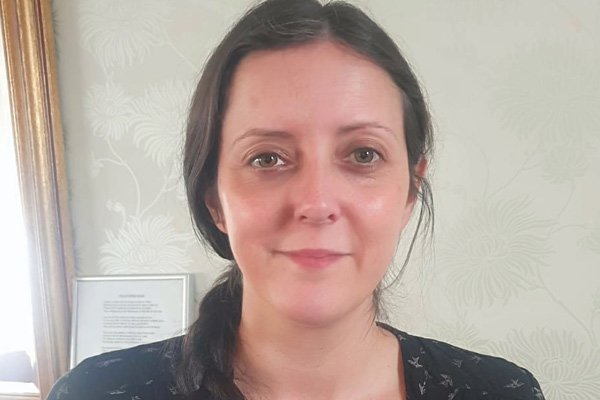 Shortly after the outbreak of the pandemic, in around April 2020, I comforted a young carer who'd become upset and overwhelmed. It resonated with me because it was during a time when Covid-19 was at its peak and life as we knew it had changed. Everything was an unknown.
We were trying our best to protect our residents. But we also felt like we were being unkind to them because they weren't allowed to spend time with each other or with their loved ones.
We look after residents with dementia and they didn't understand why they had to isolate. Many of them would forget to stay in their rooms, so we were constantly on the move, checking on them and worrying about their safety. It was emotionally and physically draining.
What happened on that day?
This moment took place during a particularly stressful day. The carer was young, new to the role, and felt inexperienced. She felt like she couldn't do enough to help the people in her care and that everything was out of her control. As well as worrying about the residents, she was anxious about her own grandparents, who she hadn't been able to visit. At one point she even thought about giving up a profession in health and care.
I decided to speak with her privately and took her into a quiet room. This was a safe space where she could express herself. If my colleagues were feeling insecure in any way, I was more than willing to offer my support. I reminded her of the importance of person-centred care. Not just for our residents, but for our staff too. Everyone copes with things differently, and we all need help from time to time.
I wanted her to know how well she was doing and how much she had to offer. She was a ray of sunshine to our residents and was looking after their wellbeing. Although the circumstances were unfair, we would just learn to do things differently. I reminded her of the positives.
We're lucky because our roles allow us to form strong relationships with our residents and their families. The bonds she'd formed with people prior to the pandemic was helping them to cope with these new challenges. She'd built a trust with people and that was really valuable.
As the manager, I felt like I had to be strong. There were moments during the pandemic where I'd also broken down in tears and didn't think I could do this job anymore. But on this day I put my own feelings aside and tried to be brave for this young carer.
During hard times, many health and care professionals just want to talk with colleagues who are going through the same things they are - someone who understands what it's like.
Never underestimate people
The most important thing I learned from this day, was never to underestimate someone because of their age, experience, or what's happening in their home lives. We were coping in the best way we could.
Guidance had felt general at that point and didn't really explain how to handle Covid-19 while caring for people with dementia. For example, it felt unnatural putting on personal protective equipment (PPE) before comforting a dying resident, when all they wanted was to feel a human touch. Or standing back from families when all they wanted was to be comforted.
This young carer showed me that we can all do something great with our lives. She matured, learned really quickly on the job and showed me just what health and care workers are capable of.
I'm delighted to say she's now studying an SVQ in social care and hopes to pursue nursing in the future. I'm so pleased that I helped support her during these difficult times, and that I met someone who's so passionate about the role. I feel like I contributed to her decision to pursue this career and this makes me feel so proud.
That day also reminded me that nurses and carers are human, too. We have emotions and sometimes need reassurance that things will be OK. Things can seem stressful in the moment but it's important to make time for colleagues - like I did on this particular day. My door is always open because without our staff we wouldn't have got through this pandemic.
---