Reviewing our post-registration standards
Reviewing our post-registration standards
Once a nurse or midwife is registered with us, they can do a NMC-approved course to become a specialist community public health nurse (SCPHN) for a public health role, including working as a school nurse, health visitor or occupational health nurse.
Nurses can also gain NMC-approved specialist practice qualifications (SPQs).
We're now reviewing the standards of proficiency and the associated programme standards we set for these roles.
This is to ensure practitioners are equipped with the knowledge, skills and attributes they need to deliver high quality care now and in the future.
What we've done so far
In 2018 we published our education framework, new standards for education and training and new standards for student supervision and assessment. Both of these sets of standards also apply to our post-registration standards.
Also in 2018, we commissioned an independent evaluation of our SCPHN and SPQ post-registration standards to help inform our approach.
Download the independent evaluation
These findings will inform the next stages of our review and we'll start to talk to interested nurses and midwives more about this later this year.
What we are doing
We have created a post-registration strategic steering group to help us review the standards, chaired by Dr David Foster OBE.
Following the first two meetings of the steering group, we have now agreed the following steps for the post-registration standards review:
to withdraw the current specialist community public health nursing (SCPHN) qualification standards no later than 2023, and develop new standards of proficiency for health visiting, school nursing and occupational health nursing fields of SCPHN practice and associated programme standards
to withdraw the current nine specialist practice qualification (SPQ) standards no later than 2023, and scope standards of proficiency content of a proposed new SPQ for community nursing practice and associated programme standards.
These recommendations were approved by our Council at their January 2020 meeting.
Next steps
Over the next year, we are carrying out work to review these standards.
We'll be working collaboratively with key stakeholders across all four countries of the UK, drawing on their expertise and co-creating the new standards alongside them.
We expect to consult near the end of 2020 ahead of Council approval of the final standards by September 2021.
See our proposed timeline for the review – these dates may change: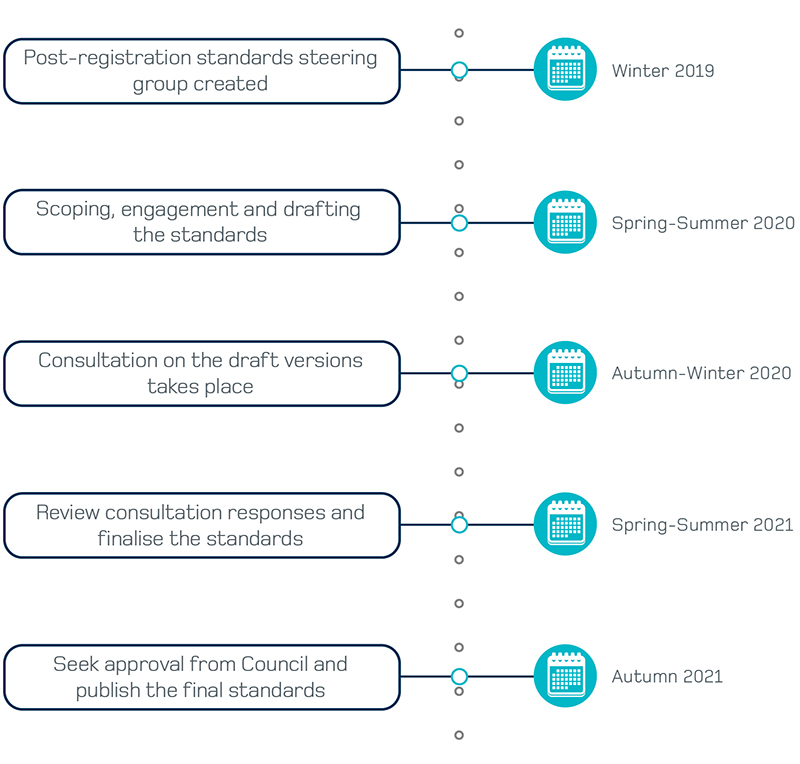 Join our interest group
If you would like to stay in touch with this work, you can join our post-registration standards community of interest group by emailing us at prscoi@nmc-uk.org.
If you have any questions, you can email EducationandStandards@nmc-uk.org.
Answering your questions
What is a SCPHN?
Registered nurses and midwives can join the SCPHN part of our register by taking an approved SCPHN programme and by achieving our SCPHN standards of proficiency.
Some SCPHN areas of practice are identified on our register, including health visitors (HV), school nurses (SN), occupational health nurses (OHN).
Other people will be on the register as SCPHNs without a field of practice identified – they may work in more generic public health roles.
What is a SPQ?
Specialist Practice Qualifications (SPQ) are optional recordable qualifications that meet our standards but do not lead to admission to a part of the register or any protected title and function.
There are currently 9 different SPQs: district nursing, general practice nursing, adult nursing, children's nursing, community children's nursing, learning disabilities nursing, community learning disabilities nursing, mental health nursing, and community mental health nursing.