Overview
A major review of our education standards
Our Council's Strategy 2015-2020 identifies education as a key priority. So in 2016, we began our programme of change.
Nursing and midwifery practice today is different from a decade ago and we know it will change even more in the next 10 years. As the health and care landscapes change, our standards need to evolve. So as part of our programme, we are carrying out a major review of our education standards and the ways we quality assure nursing and midwifery education.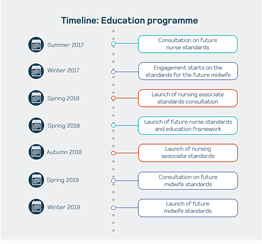 Our standards set out how student nurses and midwives are educated and what skills and knowledge they need to have before they can join our register.
We want to ensure that our education standards are fit for purpose and nurses and midwives are equipped with the skills and knowledge they need to deliver high quality and safe care now and in the future.
Programme timeline (click to expand)
What have we done so far?
Between June and September 2017 we consulted on changes that will affect the way that nurses and midwives are educated.
We sought views on:
We received more than 2,000 responses to our consultations.
What are we doing now?
An independent, external company, Why Research Ltd, collected and analysed the consultation responses.
Now that Why Research Ltd has sent us their analysis, our in-house specialists are working closely with external experts and key organisations to look at all the evidence we collected during the consultation. They are using this evidence to refine the draft standards.
We have started a programme of engagement with midwives to help us develop draft standards of proficiency for midwives and the related programme requirements.
What happens next?
We will bring our proposed final standards, which we consulted on in summer 2017, to our Council for approval in spring 2018. We anticipate that education institutions will be able to be approved against the new standards from October 2018.
We will be seeking approval from council for our new quality assurance framework in 2018.
We are aiming to consult on the new midwifery standards in early 2019, with publication in 2020.
Later in 2018, we begin a review of post-registration education (including specialist community public health nursing (SCPHN) and our standards for specialist education and practice) and related standards, and expect to start engaging with registrants in 2019.