How we develop our standards
How we develop our standards
Our standards set out the skills we expect nurses, midwives and nursing associates to be proficient in when joining our register, as well as our requirements for education institutions who train them.
We review our standards to ensure that they are fit for purpose, and work collaboratively with members of the professions, patients, service users and carers in developing them.
That's why we're carrying out a major review of our education standards and the ways we quality assure.
What we're doing in our major review of standards
Nursing and midwifery practice today is different from a decade ago and we know it will change even more in the next 10 years.
We want to ensure that our education standards are fit for purpose and that nurses, midwives and nursing associates are equipped with the skills and knowledge they need to deliver high quality and safe care now and in the future.
That's why we're carrying out a major review of our education standards and the ways we quality assure.
See our timeline for review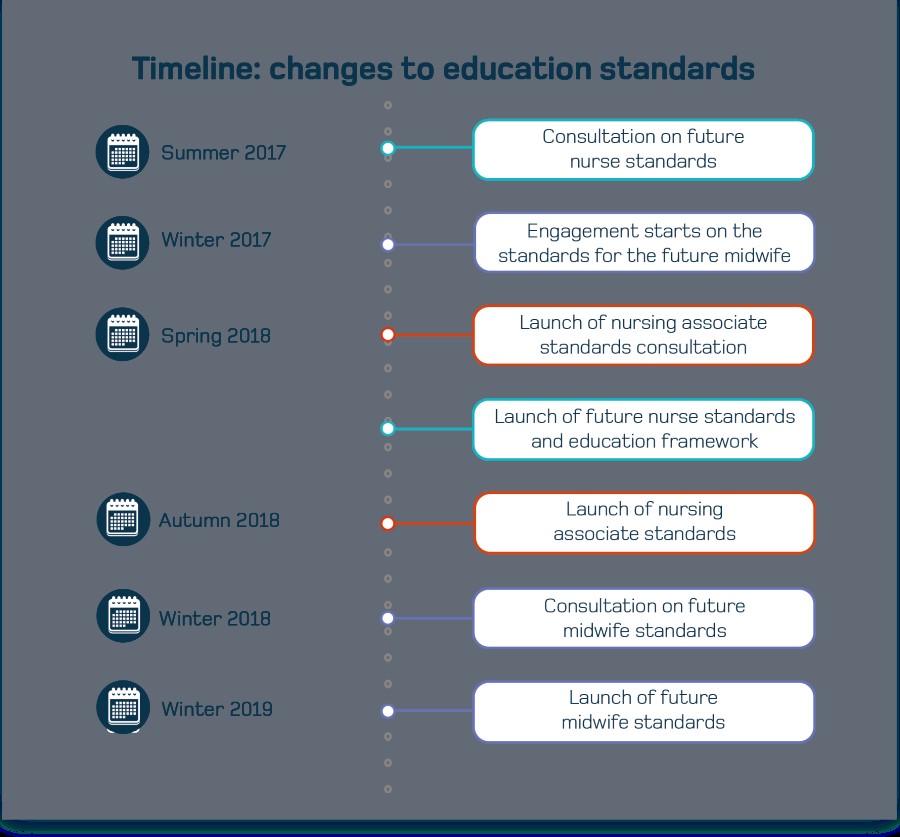 Future nurse standards and education framework
Our first phase of new standards were approved by our Council in March 2018 and published in May 2018. They consist of:
We also made the decision to withdraw our standards for medicines management.
Find out more about our education consultation.
Nursing associate standards
The second phase of new standards was published in October 2018.
These standards consist of:
Midwifery standards
We're in the process of reviewing the standards that student midwives will need to meet in order to join the profession.
Find out about how we're reshaping the future of midwifery education in the UK.
Post-registration standards
As part of our education programme of change, we're beginning to consider our post-registration standards.
During 2018 we commissioned an independent evaluation of our specialist community public health nursing (SCPHN) and specialist practice qualification standards (SPQ).
The evaluation was carried out by an external research organisation, Blake Stevenson, and has been published. Read a copy of the report.
These findings will inform the next stages of our review and in summer 2019 we'll start to talk to interested nurses and midwives more about this.
We haven't made any decisions on this issue and won't do so before we've considered the findings of the evaluation and spoken with a wide range of stakeholders, including educational institutions, the public and the people on our register.