Case study: Emily's story
Emily Burton shares her experience of becoming a newly-qualified and registered nursing associate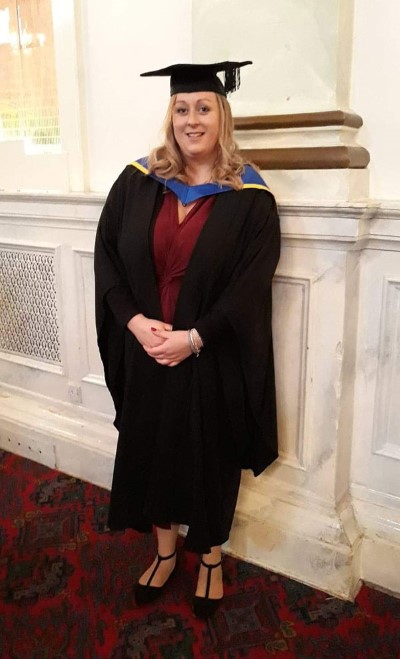 When Emily Burton graduated as a nursing associate on 24 January, she had a twin cause for celebration.
Not only did she attend the graduation ceremony at Lincoln Cathedral that morning with her mother and boyfriend. Later she received a second award, this time from the University of Lincoln, the Lincolnshire Care Association Award, for contribution to social care. This award recognise Emily's achievement in qualifying as a nursing associate in the field of social care – just one of three trainees to do so.
"I felt proud twice over that day," Emily says.
Starting her training
Emily had been working as a health care assistant at the Amber Care nursing home in Louth, Lincolnshire, for eight years when her manager alerted her to the nursing associate training scheme.
"I was very intrigued," she says. Emily found out about the new skills she would acquire, such as dressing and wound-management, and the range of experiences the placements would offer: "It sounded perfect."
Like other trainees, she was apprehensive when she started the course in January 2017, particularly at finding herself in a university setting.
"When I was given essays to write I thought, 'Oh my goodness!' But it was very exciting too – especially thinking that I was one of the first people to do it. I also enjoyed getting to know other people with the same motivation as me."
Emily returned to Amber Care, this time as a trainee nursing associate, watching and learning alongside fully qualified nurses. She found great satisfaction in applying her new knowledge and skills "and seeing how what I learnt at university was implemented in the work-place." She was also immensely curious, plying the nurses with queries about what they were doing. "They answered all my questions and were very supportive," Emily says.
As her skills developed, she felt increasingly valued by her nursing colleagues. "I think they felt better supported and it was great for me to provide hands-on care at a higher level than before. I very much felt part of the team."
Developing skills
Emily greatly enjoyed the range of placements she performed. She found working on a mental health ward especially rewarding "as it was all completely new – and I had a lot of support." By contrast, she felt more at home on an elderly ward. "I felt I had an advantage there as I previously worked in a nursing home. It did take me some time to find out how it worked on the ward, but there too everyone was very supportive."
As well as her university degree and social care award, Emily received further recognition for her pioneering role. She was asked to take part in the selection panel for the next trainees in social care – and she believes she will be able to empathise with the new applicants. "Since I was interviewed myself, I know how nerve-wracking it can be."
She will be able to give further advice as she helps to mentor a new trainee nursing associate at Amber Care. "When we started on the training scheme ourselves, none of us really knew how it would work out. Now it will be nice to pass on my knowledge."
As a newly-qualified and registered nursing associate at Amber Care, Emily is aware of her new career options. She knows the post can act as a stepping stone to becoming a fully qualified nurse. But, she says, "I have an open mind. I'd like to see how this role goes now. At the moment I just want to learn as much as I can."