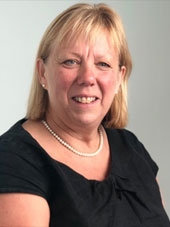 Jacqui Williams is a very experienced midwifery academic and practising midwife with over 30 years involvement in pre- and post-registration midwifery programmes.
As an academic, Jacqui has continued to keep strong links with midwifery practice and is passionate about the unique role of the midwife and women centred care. She is a Senior Fellow with the Higher Education Academy. She has particular area of expertise in quality assurance.
Her education interests are in open and distance learning and she has created resources for open access repositories including developing a unique midwifery repository. Jacqui is also an experienced midwifery expert witness.
Her doctoral work is researching whether or not resilience develops in student midwives as they navigate the undergraduate midwifery programme.
Jacqui's current role is to support the development of the new midwifery education standards and the wider work on midwifery matters across the NMC.