Prep handbook
Maintaining registration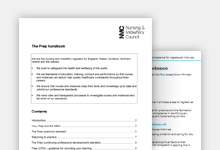 The Prep handbook was published in 2008 and updated in 2011 as a reference for nurses, midwives and specialist community public health nurses to maintain their registration throughout their careers.
The Prep standards will be superseded by revalidation when it comes into effect. From April 2016, nurses and midwives will renew their registration through revalidation every three years. The revalidation requirements include a CPD standard, as detailed in How to revalidate with the NMC. Until April 2016 the Prep standards remain in place.
Post registration requirement
Nurses, midwives and specialist community public health nurses must maintain their registration by meeting the post-registration education and practice (Prep) standards set by us.
Nurses, midwives and specialist community public nurses who do not comply with the Prep requirements will cause their registration to lapse and can no longer work as a registered nurse, midwife or specialist community public health nurse. These requirements must be met every three years, and are declared when registration is renewed.
There are two separate Prep standards that affect registration: the Prep continuing professional development (CPD) standard and the Prep practice standard.
The Prep CPD standard
This standard is about the CPD of registered nurses, midwives and specialist community public nurses. To meet it, they must:
• undertake at least 35 hours of learning activity relevant to their practice every three years
• maintain a personal professional profile of their learning activity
• comply with any requests to audit how they have met these requirements.
Given the variety of nursing, midwifery and specialist community public health nursing practice, we make no requirements regarding mandatory courses, and we do not accredit courses. Mandatory training prescribed for staff may count towards CPD requirements.
The Prep practice standard
In order to meet the practice standard nurses, midwives and specialist community public health nurses must have undertaken a set amount of registered practice in their professional capacity. This can happen at any point over the three years leading up to renewing their registration. This allows for absence for work (for example maternity leave).
The hours of relevant practice required depend on the type of registration held with us.
Practice hours can be met through administrative, supervisory, teaching, research and managerial roles as well as providing direct patient care. Any hours of practice completed when not registered on the NMC register, for instance because of registration laps, cannot be counted towards meeting these requirements.
If nurses, midwives, specialist community public health nurses cannot fulfil the Prep standards, they will need to complete an approved return to practice programme.
The Prep handbook includes the requirements for programmes leading to return to the register and practice.